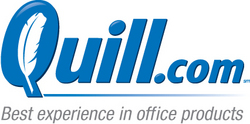 Currently, 75 percent of all of our orders are placed online - via our award-winning Web site
Chicago, IL (PRWEB) August 22, 2009
Quill, a leading business-to-business online and direct marketer of office products, is well-known for its commitment to exceeding customer expectations and for its strong brand identity - the latter of which has not been modified for 40 years. While the company's dedication to superior customer service will remain unchanged, Quill is launching a contemporary new brand identity and tagline of Quill.com, "Best experience in office products." The new brand identity is designed to speak directly to today's computer-savvy office professionals - who increasingly prefer to procure online.
"Our new brand identity will help to further strengthen our reputation for exceptional customer service," said Sergio Pereira, chief marketing officer for Quill. "It also strategically positions us to expand our existing customer base by targeting a new generation of office professionals. We are dedicated to continuing Quill's tradition of placing our customers and their experiences at the center of everything we do."
The most significant aspect of Quill's new brand identity - beyond the complete revision of its logo, which now features a sleeker, more modern design - is its tagline: "Best experience in office products." The tagline underscores Quill's superior customer service in a wide range of office products, including office supply essentials, custom printing, furniture, technology and cleaning supplies. The new logo and tagline were developed through an intensive research process that involved in-depth interviews with Quill customers.
"Currently, 75 percent of all of our orders are placed online - via our award-winning Web site," said Pereira. "However, our phone customers of course continue to be very important to us as we're committed to interacting with all customers in the way that they most want to interact with us."
In conjunction with the new tagline, Quill is adopting a more "experiential" approach to customer service - making the following commitments to its customers:

An easy and user-friendly shopping experience. BizRate.com, a leading online shopping search site, has recognized Quill.com for surpassing industry norms in terms of site look and design, clarity of information and product selection/availability.
Our service will delight you, and if there is an issue, we will make it right. According to BizRate, Quill leads the industry and sets the standard in key metrics for customer satisfaction. In fact, satisfaction at time of purchase and time of delivery are the highest in the office products industry - as are Quill's marks for on-time delivery and customer support.
Outstanding values and instant savings on items you need most. Coupons are available for immediate use and not based on a point-system that expires. Select customers have access to private sales, and special offers on the most popular supplies - including paper, ink and toner - are available each month.
Delivered surprisingly fast and free. Delivery is free for most orders that exceed $45, and Quill's nationwide network of distribution facilities ensures a delivery reach to every corner of the country exceptionally fast.
About Quill
Founded in 1956 and headquartered in Lincolnshire, IL, Quill Corporation is the nation's premier business-to-business direct marketer of office products, custom printing, furniture and technology supplies. Quill maintains 11 regional distribution centers, located strategically throughout the United States, to facilitate fast delivery. Renowned for its outstanding customer service, Quill serves customers through direct marketing, telemarketing, outside sales and online at http://www.quill.com. Quill.com offers 24-hour-a-day access to more than 50,000 business essentials. Introduced in 1996, Quill.com was one of the first successful Web sites launched in the office products industry and is consistently ranked as one of the best online merchants by Bizrate.com. Quill Corporation has been a wholly-owned subsidiary of Staples, Inc., since 1998.
# # #