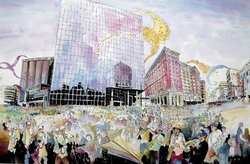 ArtPrize served as the inspiration for my most ambitious event yet – six months of perseverance resulting in an once-in-a-lifetime experience. I have put my heart and soul into this entry; pushing what is possible in Grand Rapids further than ever before
Grand Rapids, Mich. (Vocus) August 21, 2009
Urban event mastermind Rob Bliss, of Grand Rapids, Mich., today unveiled the concept for his largest endeavor to date – "100,000 Planes and Melodies over Monroe," planned for Sunday, Sept. 27, 2009 at 1 p.m. This unprecedented project will also be Bliss' entry for ArtPrize, an international art competition to be held in Grand Rapids this fall.
A celebration of music and art, Bliss' 30-minute event will feature a wavelike launch of 100,000 brightly colored paper airplanes from rooftops of several buildings along Monroe Ave. Simultaneously, from the street below, an anticipated 5,000 professional and amateur musicians will perform in unison Sigur Rós' "Olsen Olsen," a melody by the Icelandic post-rock band.
Individuals of all ages and skill levels are encouraged to use an instrument of their choice, sing, hum, whistle or simply experience the moment. Pending approval from the City of Grand Rapids, the event will close a half-mile stretch of road on Monroe between West Fulton and Michigan St.
Bliss, a 20-year-old Grand Rapids Community College music student, is known for attracting thousands of people to his flash mob-style events promoted primarily through social networking sites. In the past year, Bliss has invigorated the city's center with creative, edgy and fun urban experiments.
Highlighted in the national news, Bliss' massive pillow fight in Rosa Parks Circle last September sparked a series of events, intrigue and excitement – a world record-setting Zombie Walk filmed by the Discovery Channel, family friendly Chalk Flood, Fourth of July water balloon battle and first annual Electronic Music Festival.
"ArtPrize served as the inspiration for my most ambitious event yet – six months of perseverance resulting in an once-in-a-lifetime experience. I have put my heart and soul into this entry; pushing what is possible in Grand Rapids further than ever before," said Bliss. "I am calling upon all residents, students, parents and teachers connected to music programs and ensembles – everything from kindergarten choirs to professional orchestras – to participate in this event. Please spread the word through any avenues possible."
The ArtPrize competition, running Sept. 23 through Oct. 10, will award the world's largest art prize – nearly $500,000 – to the artists who receive the most public votes. The public will determine the winners by voting, using mobile devices and the Web. Bliss' venue space within the Old Federal Building, 155 N. Division Ave., will feature a documentary-style video of the September event.
# # #