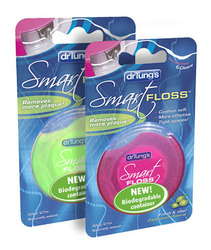 You spend time flossing, so why use a less effective floss, that removes less plaque?
Honolulu, Hawaii (PRWEB) August 25, 2009
Dr. Tung's Products (http://www.drtungs.com) announced today that its popular Smart Floss® is now available in a biodegradable dispenser.
Smart Floss® is already one of the most popular flosses in the natural marketplace and the company expects the biodegradable dispenser to win even more consumers.
'Until now, if someone tosses their empty floss dispenser into the garbage, it takes up to 100 years to degrade' says CEO Colin Davis. 'Using leading-edge technology, our new containers turn into food for microbes - they become biomass within just 1 to 5 years.' The technology keeps the container stable both in the bathroom and in the store, so shelf life is not affected at all, which is good news for both store buyers and consumers.
Smart Floss® is clinically proven to be up to 55% more effective in removing plaque than other leading floss types. It uses a natural flavoring and a combination of vegetable and bees wax, rather than the petrochemical waxes used by conventional supermarket and drugstore brands. The effectiveness - and name - comes from its ability to expand into interdental spaces during use.
The floss is easily recognized by its colorful round dispenser, which is both eye-catching and easy to carry. 'We have a large following of savvy consumers who just love how Smart Floss® cleans between the teeth. To nonusers we say "You spend time flossing, so why use a less effective floss, that removes less plaque?" asks Davis. 'And now, it is both better for you and for the environment. Hundreds of millions of plastic floss dispensers are already sitting in landfills until the year 2050 and beyond! Millions more are destined for the same fate each year. We're very proud that Smart Floss® can help change the trend of floss dispensers being harmful to the environment.'
About Dr. Tung's Inc.
Dr. Tung's has been making more effective, natural oral care products since 1997. Products include the best-selling Dr. Tung's Stainless Steel Tongue Cleaner, Snap-On Toothbrush Sanitizer, Smart Floss® and the Ionic Toothbrush.
Contact Information:
Colin Davis
Dr. Tung's Products tel: 808 239 5799
###