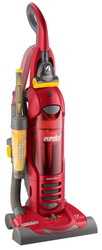 Whirlwind+ offers these features and more, making it a go-to, dependable vacuum with tools for most surfaces.
Bloomington, Ill. (PRWEB) August 24, 2009
Don't let a busy schedule and juggling too many cleaning tools stand in the way of a clean home. Eureka's cleaning experts know that on-the-go families struggle to get a whole-home clean with just one tool - which is why they developed the new Whirlwind+ upright vacuum. Designed to bring a reliable and convenient multi-surface clean within reach, Whirlwind+ is equipped with maximum suction power and easy-access tools to cover more surfaces in less time.
"We studied lively households with tight schedules and found that consumers have a hard time achieving an entire-home clean with just one tool," said Randy Sandlin, general manager consumer experience and innovation for Eureka. "Whirlwind+ is a one-stop solution with intuitive, attached tools to tackle all surfaces."
A Quick Shot of Cleaning Power
Knowing that busy lifestyles offer few minutes to spare, Whirlwind+ cleans multi-surfaces in less time with a maneuverable, 20-pound design and 15-inch wide cleaning path. Further accelerating the cleaning process, its cyclonic suction technology packs dirt tightly into the dust cup, while a protective screen prevents large particles from becoming embedded into the filter. These features enable more dirt to fit in the cup for longer cleaning endurance and less maintenance. When it is time to empty, the flip-bottom dust cup allows for disposal of dirt quickly and with less mess.
Whirlwind+ also includes HEPA filtration that captures 99.97 percent of dust, allergens and other small particles and a powerful, deep-cleaning 12-amp motor.
"Busy families need a vacuum designed for a whole-home clean," said Jackie Cooper, director of marketing and communications for Eureka. "Whirlwind+ offers these features and more, making it a go-to, dependable vacuum with tools for most surfaces."
Ultimate Tools for All-in-One Cleaning
Whirlwind+'s brightly-colored models, Spring Green Fleck and Radiant Red Fleck, are both equipped with intuitive Eureka tools that make knocking out dirt and dust even easier. A nested extra-long crevice tool and wand attachments are stored near the vacuum's handle for quick fitting to the vacuum's hose to reach small corners and above the floors. The Power Paw® Turbo with Riser Visor™ tool cleans stairs and upholstery both horizontally and vertically, eliminating awkward sideways and upside-down wrist positions.
The Radiant Red Fleck Whirlwind+ also boasts the Eureka Telescopic Self-Cleaning Duster - an innovative duster that extends up to three feet to attract pet hair and dust like a magnet.
Whirlwind+ retails for $129 and comes in Spring Green Fleck, available at Kmart, and Radiant Red Fleck, available at other retailers nationwide. For more information about Whirlwind+ or other Eureka products, consumers can call 800-282-2886 or visit http://www.eureka.com.
About Electrolux® Home Care Products, Inc.
Electrolux Home Care Products, Inc. (EHCP) leverages consumer driven insight to manufacture and market innovative floor care products under its well-known Eureka and Electrolux consumer brands. The company also sells high-quality commercial products under its Sanitaire brand name and central vacuums made by its Electrolux Central Vacuum Systems division (formerly known as Beam Industries). EHCP is based in Bloomington, Ill., and is a part of The Electrolux Group. Visit http://www.electroluxusa.com, http://www.eureka.com, http://www.sanitairevac.com or http://www.beamvac.com for more information.
# # #