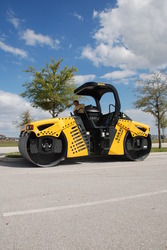 Adairsville, GA (PRWEB) August 23, 2009
SAKAI America's new 700 Series vibratory asphalt rollers have a redesigned sleek look and increase paving productivity by achieving density with high amplitudes while leaving smooth finishes on all HMA surfaces.
The 700 Series comes in two models, the SW770 and SW770HF. The SW770 offers one frequency, 3,000 vpm and two amplitude settings, low to high .012 to .025 inches, while the SW770HF offers a three frequency settings up to 4000 vpm, and two amplitude settings, which are the same as the SW770. Both models offer a drum width of 67" and are ideally suited for a wide variety of HMA projects including municipal streets, state highways, airport runways and large parking lots.
The 700 Series is powered by a turbocharged, fuel-efficient Isuzu 4JJ1XDIA, water-cooled, Tier III diesel engine that delivers 123 hp. Sakai's fuel saver mode allows the operator to manually or automatically set the engine RPM depending on the application, while maintaining all of the vibration characteristics necessary for compaction and smoothness on the project. This mode is proving to have significant fuel savings. Sakai has also design the 700 Series with a forward engine design and remote drains making for easy engine serviceability. Mechanics can make quick oil and other fluid changes from the ground, which reduces roller downtime.
The operator's station, specifically the isolation deck of the 700 Series is similar to Sakai's other roller models but has been enhanced to minimize vibration to the operator, which minimizes fatigue. The 700 Series also consists of a 3-position, 180° rotating operator console with instrument panel and seat. This design ensures that all controls are easy to reach and gauges are easy to view no matter what position the console is in. The 700 Series also provides 360° visibility plus a great view of the drum edges from the operator's seat. An optional side drum light offers added visibility during night paving. ROPS and seat belts are standard equipment on every Sakai roller sold in North America.
Sakai's ExactCompact and Intelligent Compaction, Compaction Information System (CIS) systems are also available as add-on features.
Another feature on the 700 Series is Sakai's unrivaled spray system that eliminates downtime during the crucial compacting stage. The spray system consists of one spray bar on each drum, rustproof tanks, stainless pipes, and brass nozzles that can simply be replaced by hand. The triple filtration system prevents clogging from debris and a pressurized emergency back-up pump system provides water in the event of a pump failure.
SAKAI manufactures and markets a full line of compaction equipment, including vibratory soil compactors, vibratory asphalt rollers, vibratory pneumatic tire rollers, static three-wheelers and other combination rollers. For more information on the new 700 Series or other compaction equipment, please contact your nearest authorized dealer, or log onto http://www.sakaiamerica.com or call 1-800-323-0535.
###