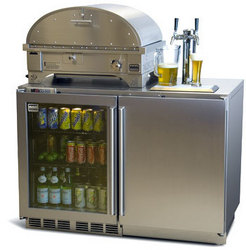 They don't want to think about their refrigerators; they just want to be confident their beverages and food items are kept at the right temperature until they are needed.
Chicago, IL (PRWEB) August 21, 2009
What's the fastest way to ruin a late-summer barbeque or a party on the patio? Serving drinks or food items warm when they are supposed to be cold. Kalamazoo Outdoor Gourmet, the leader in high-end outdoor kitchen equipment, offers advice on keeping your food safe during the remainder of the summer and early fall barbeque seasons.
Experts unanimously agree that while the grill is the star of the outdoor kitchen or patio, outdoor refrigerators shine behind the scenes. A 2008 National Association of Home Builders* survey found 58 percent of responding designers, builders and architects saying a refrigerator is a critical component of an upscale outdoor kitchen. Kalamazoo Outdoor Gourmet addresses this trend with the market's broadest selection of refrigeration for outdoor kitchens.
"People are looking for outdoor refrigeration that works, is low maintenance and sanitary," said Russ Faulk, vice president of product development for Kalamazoo Outdoor Gourmet. "They don't want to think about their refrigerators; they just want to be confident their beverages and food items are kept at the right temperature until they are needed."
Most outdoor refrigerators are merely beverage chillers and are not made to safely store food. Kalamazoo Outdoor Gourmet's outdoor refrigeration collection is rated for food storage and has been proven to maintain the set, safe internal temperature for food (even ice cream) when it is as hot as 110°F outside.
Faulk offers the following advice on choosing an outdoor refrigeration unit:
Uniform coolness: a fan versus a plate
Keeping things uniformly cold requires air to move around drinks and food. Think of it as forced air conditioning for your food. Most outdoor refrigerators on the market use a technology that is similar to a radiator - a plate gets cold and the cooled air sinks to the bottom of the refrigerator. Forced air cooling is similar to the air conditioning in your house because there is a fan actually moving the air around the refrigerator. The fan keeps air uniformly cold, preventing "stratification" that has air cooler at the bottom of the refrigerator and warmer air at the top. Uniform coolness is particularly key in keeping food safe during sweltering summer heat.
Can you see yourself inside an outdoor refrigerator?
When it comes to your outdoor kitchen, shiny is good, especially in the case of food storage. Professional cooks prepare food on stainless steel because it is sanitary and easy to keep clean. Your outdoor refrigerator should have a stainless steel interior for the same reason, and because it does not harbor mold or mildew. Many outdoor refrigerators on the market feature a type of plastic interior. While a white plastic interior may look nice, it does have a tendency to grow mold and mildew and it takes more work to keep it clean and sanitary. If you can't see your smiling face looking back out of an outdoor refrigerator, you can rest assured that you will be working harder to keep it clean and sanitary.
Becoming cool takes time
You don't get to be cool in just one hour. Even the most powerful outdoor refrigerators take a little time to chill down warm beverages. When you have a party in your outdoor kitchen, don't stock the 'fridge with warm beverages just an hour before the event. Give your refrigerator time to work on those drinks.
When it comes to food, make sure your refrigerator is already at the temperature required to store food safely. One of the technologies to look for in a refrigerator is a variable capacity compressor or VCC. The VCC works hard and smart to quickly cool items in the refrigerator by "sensing" when it has to work harder to cool warm items and work smarter to simply maintain a correct temperature.
Kalamazoo Outdoor Gourmet offers a broad range of exclusive outdoor refrigeration options for the outdoor kitchen, including the industry's only outdoor-rated freezers and freezer drawers, keg tappers that can serve three types of beer, 15-inch-wide refrigerated drawers and the only 15-inch-wide keg tapper.
About Kalamazoo Outdoor Gourmet
Kalamazoo Outdoor Gourmet has a rich heritage of bringing gourmet lifestyles outdoors and is the leading manufacturer of premium-quality outdoor kitchen equipment, including revolutionary hybrid grills that cook with charcoal, wood and gas, and the most powerful and energy efficient outdoor refrigeration available. Please visit http://www.KalamazooGourmet.com for more information or call 1.800.868.1699 to speak with an outdoor kitchen design expert.

2008 NAHB Remodeling Outlook Study
###