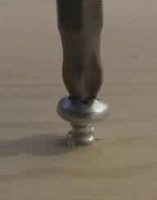 By incorporating a programmable Delay Time in tenths of a second it allows the unit, in this case the PLUTO, to overcome high prevailing torque
Westford, MA (PRWEB) August 23, 2009
A lifted head screw occurs when the torque is required to cut the thread is higher than the final torque. Torque wrenches and the majority of power tools can only be set to one torque setting. Consequently, they stop tightening the fastener after the torque they are set for is reached; whether or not the screw is fully tightened. This type of defect is frequently seen in application using metal screws cutting into threads into plastic, metal screws with loctite or other adhesives cured on the thread prior to fastening, and metal screws cutting threads into aluminum.
KolverUSA has solved this problem with the introduction of the version 2.2 software for the EDU1AE, PLUTO Screwdriver Controller. This software has a new parameter "Delay Time" which enables the EDU1AE to run at it's full torque capacity for a pre-set amount of time, before downshifting to a final tightening profile. When the Delay Time is set to any value other than zero, the unit is running at the full torque capacity and factory set RPM level of the specific PLUTO screwdriver connected to the EDU1AE controller for that time period. During the Delay Time the torque output of the screwdriver is not limited in any way.
"By incorporating a programmable Delay Time in tenths of a second it allows the unit, in this case the PLUTO, to overcome high prevailing torque" says Curt Logee, Vice President Sales & Marketing. This new Delay Time feature for thread cutting applications is unique among low cost screwdrivers. Before Kolver's introduction of this feature customers only choice was an expensive Transducer Controller system.
About Kolver USA:
KolverUSA is a Joint Venture between Blackstone Global, Inc of Westford, MA and Kolver S.r.l. of Thiene, Italy. Kolver USA has combined the Kolver product line with other products from around the world and added innovative solutions to provide the most complete, cost-effective, and well-regarded products in the industry. For more information, visit http://www.kolverusa.com, or contact the company at 1 Park Drive, Unit 9, Westford, MA 01886 USA; Tel. (978) 692-5166; visit the web site for other offices, dealers, and representatives in the Americas.
Chelsea Conrad
KolverUSA
Sales and Marketing Coordinator
http://www.kolverusa.com
###