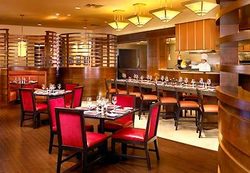 Iowa City, IA (PRWEB) August 23, 2009
Hearty eaters have a reason to smile thanks to the Coralville Marriott Iowa City Hotel and the Edgewater Grille. The grille is debuting its new menu and it is feeding people the food they want at a price they can afford. With the Cutting Edge Lunch Menu, everyone can have a nice meal for only $8. Dinner is served for $15 with the Cutting Edge Dinner menu.
The Cutting Edge Lunch Menu is available at the Iowa City Hotel Monday-Saturday from 11:30 am to 1:00 PM. The $8 menu feeds people of all budgets and tastes.
People can dine at the best of the restaurants in Coralville, Iowa no matter if they are staying at the Iowa City hotel or not. Patrons will have their choice of a number of menu items for $8. The $8 menu includes:

Grilled Chicken Caesar Salad
Grilled Chicken Sandwich with Edgewater Fries
Turkey Club Sandwich with Edgewater Fries
Bacon and Cheddar Burger with Edgewater Fries
Today's Soup and Half Sandwich
The Edgewater Grille also has a Cutting Edge Dinner menu for $15, which includes a first course of a market or Caesar salad and a main course of one of the following:

Half Oven Roasted Chicken
Half Rack BBQ Baby Back Ribs
Salmon Citrus in Butter
Roasted Vegetable Tart
Those looking at restaurants in Coralville, Iowa can get the $15 Cutting Edge menu for dinner Sunday-Friday from 5:00 pm - 6:30 pm.
To find out more information about the best of the restaurants in Iowa City IA, visit http://www.marriott.com/hotels/hotel-information/restaurant/cidic-coralville-marriott-hotel-and-conference-center/ or call 1-319-688-4000.
About the Coralville Marriott and the Edgewater Grille
The Edgewater Grille can be found inside the Coralville Marriott Hotel and Conference Center. The grille is open for breakfast, lunch and dinner and serves American cuisine. A breakfast buffet is available, and diners can take advantage of the Cutting Edge menu or get steaks, chops and chef specials. To learn more about the Coralville Marriott Iowa City Hotel its restaurants, visit: http://www.marriott.com/hotels/travel/cidic-coralville-marriott-hotel-and-conference-center/
###