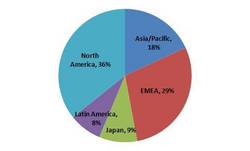 SMBs are now looking beyond infrastructure investments as their respective countries slowly emerge from the global downturn. With continuing education by vendors and channels SMBs have begun embracing managed services with cautious optimism
San Jose, CA (PRWEB) August 24, 2009
Worldwide Small & Mid-Market Business (1-999 employees) overall managed services spending is expected to reach US$14.3 Billion in 2009, a growth of 9.2 percent over 2008. In 2010 SMBs are likely to spend US$15.7 Billion on managed services exhibiting a growth rate of 9.6 percent.
SMB worldwide spend on remote managed services will grow the fastest at 9.2 percent in 2009 and to reach US$3.6 Billion. The trend will continue through 2012 to reach US$5.3 billion at a compounded annual growth rate of over 10 percent from 2008.
Asia/Pacific excluding Japan is expected to grow by 12.2 percent followed by US at 8.5 percent. EMEA (including Western Europe, Eastern Europe, Middle East and Africa) region will grow by 6.5 percent in 2009 and jump to 8.1 percent in 2010.
Over 36 percent of managed services spending by SMBs in 2009 will be made by 10-49 employee size categories making it the most lucrative target segment but also most difficult to reach.
The above findings were released by Techaisle, a San Jose based market research and consulting firm with global coverage. Techaisle provides actionable data on global emerging markets and technologies.
"Tough economic times bring investment decisions into sharp focus and the result is typically lower investment levels. It also sharpens medium and longer term priorities that lead to smart investments and managed services is certainly in the radar", says Abhijeet Rane, Techaisle.
"SMBs are now looking beyond infrastructure investments as their respective countries slowly emerge from the global downturn. With continuing education by vendors and channels SMBs have begun embracing managed services with cautious optimism", says Anurag Agrawal, Techaisle. Not surprisingly SMB managed services spend represents a 46 percent share of the total managed services spend of US$31.1 billion by businesses that include large enterprises with 1000+ employees.
The study that includes market sizing covers remote and onsite/remote managed services and includes sub-segments of PC management, Server/Network management, Security, Network storage and back/recovery managed services. Email/web-hosting, collaboration and SaaS services are excluded from managed services and are sized separately.
SMB network and server managed services account for highest level of spending at US$3.5 Billion while PC managed services is expected to reach US$2.7 Billion in 2009.
The study that includes extensive market sizing based on primary research shows that emerging markets will have the highest growth rate at 13.7 percent while the established markets (mature markets) are projected to grow by 8.4 percent.
Referring to the chart, regional shares change if only remote managed services is considered. The share of emerging markets' spend will grow from 21 percent in 2008 to over 24 percent in 2010.
About Techaisle
Techaisle is a data driven market research analyst and consulting company based in San Jose with global coverage. Focused on Emerging Markets and Emerging Technologies Techaisle has pioneered a business model which is very different from traditional market research firms.
Go- to-Market strategies require an actionable data delivery solution based on aggregation, focused analytics and dynamic market segmentation. Techaisle's core premise is that data is inherently more valuable when it can be summarized, made actionable and delivered as an answer to a specific question. Techaisle provides services in five major areas:

Worldwide IT Market and Channel Partner Sizing, leveraging one of the most comprehensive opportunity sizing databases in the industry
Survey Research of End Users and Channels across multiple countries
Custom Market Research with strong analytical capabilities to uncover opportunity for clients
Segmentation, based on algorithms that are easily understood, easily deployable and drive actual sales and market understanding
Social media tracking, on-demand, aggregated delivery of sentiments, opinions, buzz, topics and much more from social media such as reviews, blogs, forums and news
Techaisle's blog can be read at http://techaisle.wordpress.com . For more information on Techaisle or its global products/services, please visit http://www.techaisle.com or call 408-914-2989.
###