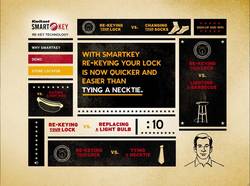 It's clear that this is the time for us to execute a significant, strategic advertising campaign around SmartKey
Lake Forest, Calif. (PRWEB) August 24, 2009
Kwikset®, the leader in innovative residential door hardware, today debuts its comprehensive national advertising campaign, "Versus," which will reach an estimated 170 million consumers. The campaign, which is the brand's most substantial advertising initiative in recent history, is designed to support SmartKey® re-key technology which provides homeowners with the ability to re-key their locks quickly and easily for improved security and access control. The "Versus" media mix includes TV, online rich media, in-store, print, and a campaign-specific microsite http://www.GetSmartKey.com, all of which will run Aug. 24 - Oct. 31, 2009.
"It's clear that this is the time for us to execute a significant, strategic advertising campaign around SmartKey," said Brent Flaharty, vice president of marketing, Kwikset. "We know from the sales success of SmartKey products that consumers appreciate the added security and convenience it brings to their homes and families. But we also know there is still a tremendous opportunity to increase the awareness and understanding of SmartKey technology and its benefits to the homeowner. As a business, we're excited to take this important step toward a greater and more consistent level of investment in the brand."
Developed by San Diego-based vitrorobertson, the "Versus" campaign puts the SmartKey re-key process against some of the simplest everyday tasks such as replacing a light bulb, tying a necktie, or lighting a barbecue, and wins. The anchor message communicated through these memorable executions is that with SmartKey, consumers can re-key their locks quickly and easily for improved security. Creatively, the campaign fuses bold designs with simple animations to create an engaging, technologically focused message.
"Versus" strategic and creative direction draws upon two core consumer insights; first that people find the subject of re-keying complex and daunting to understand; second that straightforward product demonstrations yield the 'aha moment' that enables consumers to gain that understanding," said John Vitro, executive creative director, vitrorobertson.
The scenarios were illustrated by Larry Jost, animations and special effects were produced by Shilo Creative Production Company, and sound design was produced by Machine Head.
"Versus" Media Mix
The "Versus" [30-second] TV spot begins airing Monday, Aug. 24, 2009 on cable programming networks that reach the do-it-yourself (DIY) audience, including HGTV, TLC, the DIY Network, CNN, A&E and ESPN. Exclusively on Scripps Network affiliates, there also will be a customized 30-second vignette to complement the broadcast spots. This "product spotlight" vignette will demonstrate key attributes of a SmartKey-enabled product through an engaging real-life scenario.
"Versus" digital executions will be placed on a myriad of DIY Web sites. As the exclusive sponsor on About.com's "DIY Central," Kwikset branding will represent 100 percent share-of-voice on a custom landing page, a custom video player and guide sites. On eHow.com, SmartKey will sponsor the Custom Topic Center and Quick Guides, plus a homepage takeover; and on AngiesList.com, there will be targeted placements of "Versus" banner ads.
A "Versus" microsite also will support the overall advertising campaign. The landing page opens with a SmartKey lock as the door to a vault and will animate with an over-exaggerated sound effect of a vault door unlocking. The lock then swings open and the camera pushes into the door revealing the microsite inside. The site will feature a series of "Versus" animated videos that mirror the broadcast creative and online advertising, with two additional sequences exclusive to the microsite. Detailed product descriptions and store location information also will be included.
A complementary print campaign will run in builder and multifamily trade publications and local newspapers across the country. At retail, the "Versus" campaign will be brought to life through new point-of-purchase signage and in-store events.
"Versus" Creative Credits:
Spot Title: "Versus"
Executive Creative Director: John Vitro, vitrorobertson
Creative Director: Kent Thayer, vitrorobertson
Associate Creative Director: Don Stephenson, vitrorobertson
Art Director: Kevin Lukens, vitrorobertson
Copywriter: Joe Beutel, vitrorobertson
Agency Producer: Deb Drumm, vitrorobertson
Production Company: Shilo Creative Production Company
Director: Mike Slane
Illustrator: Larry Jost
About Kwikset
For more than 60 years, Kwikset, manufacturer of America's most trusted name in security, has provided beauty, security and peace of mind for millions of families. For additional information on Kwikset products, visit http://www.kwikset.com, or call 1-800-327-LOCK. Black & Decker Hardware and Home Improvement (BDHHI) Group is a division of Black & Decker, a leading global manufacturer and marketer of power tools, power tool accessories, and security hardware. Today, the BDHHI Group includes some of the most recognizable hardware and home improvement brands in the world including Kwikset, Weiser®, Baldwin®, Price Pfister® and K2™ Commercial Hardware by Black & Decker.
About vitrorobertson
Vitrorobertson is a full-service ad agency known for consistently and quickly contributing to the growth of a company's business. Every agency-of-record client in their entire 16 year history has experienced market share growth within 12 months. All of their clients are national and/or international brands headquartered from L.A. to Atlanta to Scotland and Japan. Clients include IHOP, ASICS, Kyocera, Intel, Cobra Golf, Yamaha, and Newcastle Brown Ale.
# # #