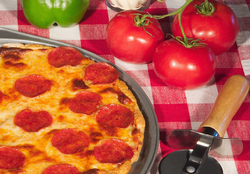 I always have a marinating flank steak in the freezer for a quick grilled dinner, with leftovers for sandwiches the next day
Denver, CO (PRWEB) August 24, 2009
For millions of families, back-to-school means organizing dinner around school activities like homework, soccer, band practice, and dance lessons. "Shopping for and preparing a healthy dinner is hard enough for busy families, but for those on a gluten-free diet it is extra-challenging," says Carol Fenster, a gluten-free expert who offers gluten-free weekly menus, recipes, and shopping lists at http://www.GfreeCuisine.com.
Fenster's service uses these tips for getting tasty meals on the table, safely and deliciously:
[1] Stock your pantry with quick dinner fixes, such as gluten-free pasta; rice; broth; marinara sauce; canned clams, tuna, beans, and artichokes; olives; capers; plus garlic, basil, oregano, and rosemary. Keep frozen shrimp and vegetables on hand. "From these items, I make a quick linguine with red clam sauce, or paella, or an easy bean soup," says Fenster.
[2] Maximize your slow cooker. Prepare soups, stews, and roasts in the morning, cook all day, and they greet you with a wonderful aroma that says "Sit down and enjoy dinner." Chili makes a hearty meal and leftovers can be used for Sloppy Joes, on baked potatoes, or frozen in individual servings for reheating.
[3] Freeze ready-to-cook meals that you prepare ahead of time, such as marinated meats. For example, assemble the marinade in a freezer container, add the meat, seal tightly, label with cooking instructions, and freeze. Thaw in the refrigerator the night before or microwave on low power, then cook. "I always have a marinating flank steak in the freezer for a quick grilled dinner, with leftovers for sandwiches the next day," Fenster says.
Each week, Gfree subscribers choose five dinners from a list of ten new gluten-free recipes that are all kitchen-tested and have minimal prep times. In addition, grocery shopping is simplified by a categorized grocery list identifying gluten-free brands. The weekly service also offers tips for a gluten-free pantry, seasonal menus, bread-baking solutions, dairy substitutes, freezer meal menus, dessert recipes, dinner party menus, and more.
"Whether you are affected by autism, celiac disease, or choose not to eat gluten (a protein in the wheat family) simply because you feel better, GfreeCuisine offers the perfect meal planning solution," says Fenster. For more information, see http://www.GfreeCuisine.com.
Contact:
Carol Fenster, PH.D.
Savory Palate, Inc.
303 741 5408
http://www.SavoryPalate.com
###