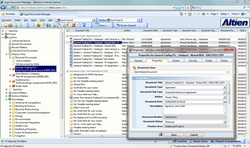 Altien Legal Document Manager delivers the key features that law firms and legal departments need to manage their documents today, and is architected to meet the challenges of the future
London, UK (PRWEB) August 24, 2009
Altien today announces the expansion of its Legal Suite for IBM Enterprise Content Management (ECM) with new releases of Altien Legal Document Manager and Altien Legal Hold Process Manager. These applications harness the extensive capabilities of the IBM ECM platform to deliver focused solutions for law firms and corporate legal departments.
Lawyers were early adopters of document management technology, and today most law firms and in-house legal departments have a document management system of some sort. However, many are now looking for next generation ECM solutions that meet all their content management needs and include fully integrated business process management, email management, records management and eDiscovery capabilities.
Jason Hirst, Chief Executive Officer of Altien, said: "Looking forward over the next five to ten years, we see enormous challenges for law firms, legal departments and indeed all enterprises in the way they manage their unstructured data. We expect continuing explosive growth in the volume, variety and complexity of digital information and a parallel increase in the costs associated with information governance failure."
"The level of product development investment that will be required to deliver technology solutions that meet these challenges will also be enormous, and consequently we expect only a handful of core enterprise content management platforms to eventually dominate. Altien's strategy is to deliver packaged applications that utilize the IBM ECM platform to solve specific business problems. By taking advantage of the core ECM capabilities of the IBM platform, we are free to concentrate on building intelligence and best practices into our applications to deliver an excellent user experience."
Altien Legal Document Manager (LDM) is an advanced, matter-centric document & business process management solution for law firms and corporate legal departments. It offers an intuitive user interface that is both easy to learn and efficient for frequent use. Built on the IBM FileNet P8 platform, it enables organizations to bring together all their documents, emails, images and other media into a single, hugely-scalable and flexible system.
LDM streamlines the document drafting process through tight integration with Microsoft Office and the industry-leading document comparison and integrity tools from Workshare. With IBM Content Collector, inbound and outbound emails are automatically captured and filed into relevant matters. Documents can be declared as records using IBM FileNet Records Manager, either with Zero-Click policies or using the manual-declare wizard. Through its integration with IBM Content Integrator, LDM allows users to securely browse and search other content repositories from the same user-interface, enabling a phased migration from legacy systems.
"Altien Legal Document Manager delivers the key features that law firms and legal departments need to manage their documents today, and is architected to meet the challenges of the future", said Jason Hirst, Chief Executive Officer of Altien. "An important differentiator in our solution is the deep integration with the IBM FileNet Business Process Manager engine, which enables the automation and auditing of document-centric and matter-centric workflows, from simple ad hoc tasks to complex multi-step, multi-party processes. Customers can design and implement their own workflows or take advantage of pre-built Altien Process Packs, such as Altien Legal Hold Process Manager."
Altien Legal Hold Process Manager (LHPM) enables corporate legal departments to establish and manage an efficient and defensible legal hold process. It offers two unique benefits compared to standalone solutions. First, it is fully integrated into the Altien Legal Document Manager matter-centric model so that all the emails, documents and workflows generated as part of the legal hold process are stored in the same matter file as other case-related materials. Second, because LHPM is built on the IBM FileNet Business Process Manager engine, it offers a far more flexible and cost-effective solution than alternatives which rely on their own embedded workflow and content management technology.
Altien will be officially unveiling its new products at the ILTA '09 Annual Educational Conference taking place at the Gaylord National Resort & Conference Center, near Washington DC on the 24th-27th August 2009.
About Altien
Altien develops packaged applications for the IBM Enterprise Content Management platform. Altien's expertise is based on more than fifteen years of experience in designing and implementing ECM systems and Altien has been an IBM FileNet ISV ValueNet partner since 2003. Altien's applications are deployed today with major organizations worldwide in the financial services, energy and government sectors. Altien is headquartered in London, United Kingdom. For more information, visit http://www.altien.com.
# # #