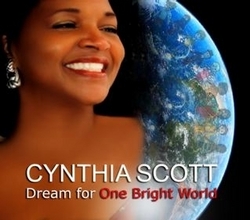 thrilled that the album reached this level of success so quickly and that audiences gravitated to it as she hoped they would.
New York, NY (PRWEB) August 24, 2009
Never before has an all original female vocal CD hit the Jazz Week Chart, until recently, when Cynthia Scott's new album, "Dream For One Bright World" achieved this status. Scott says she is "thrilled that the album reached this level of success so quickly and that audiences gravitated to it as she hoped they would."
Jazz singer songwriter Scott's new CD features a range of material with Scott as the principal composer. She believes that the album resonated with audiences due to the universal themes on the CD, and her ability to tap into the heart of the world's concerns.
"Audiences sense that all is not well in today's world, and I've put these concerns into the music," says Scott, a native of Arkansas, who developed her love of music early on while singing in church. As a jazz ambassador, "my goal is to try to lift the world with my music and to encourage and inspire all of us to treat each other as equals. Trying to connect soul to soul to audiences worldwide."
The messages in the music, range from heart felt emotions to dealing with personal tragedy. "Did I Know You," recalls the times that she spent as a concerned caregiver to her mother living with Alzheimer's. "Shades of Ray," pays homage to the great Ray Charles and expresses Cynthia's deep admiration for the man who gave Scott her big break as a Raelette back in 1972. On the opening track "IF THE SHOE FITS" she simply suggests that you release your pain, let it go and set it free. Cynthia also offers a tribute to singers that inspired her like Sarah Vaughan, Carmen McCrae, Peggy Lee, Billie Holiday, Dinah Washington and others on "The Singer." The title track "DREAM FOR ONE BRIGHT WORLD" was written for the children all over the world and showcases third, fourth and fifth graders from PS32 Brooklyn, NY joining in at the end to echo this message of unity.
She cites an example of audiences connecting to her work the recently received a phone call from the owner of a funeral home. He was finishing up a service and driving back in his hearse and heard her song "Did I Know You" on the radio. He said he had to pull over to the side of the road, get out of the hearse and cried like a baby. "I knew then that the stories were getting through, being heard and felt."
Paula Edelstein, a writer for Sounds of Timeless Jazz describe Cynthia Scott's new release as "sweet, soulful, sassy and soothing. Her vocal artistry encompasses the "swing of jazz, the soul of R&B, and the sacred stirrings of gospel music and has been hailed for her myriad of influences which are clearly noticeable. Scott's cool contralto voice and versatile range are at the forefront of these compositions."
DREAM FOR ONE BRIGHT WORLD features a range of material written by Scott, who credits co-writers Norman Simmons and Nicholas Morrison for their creative input on some of the songs she performs on the CD, reflecting Scott's thought that" jazz is just life."
Accompanied by such great musicians as Lonnie Plaxico on acoustic bass, John di Martino on piano and keyboard, Bill Easley on tenor/alto/soprano saxophones and flute, Yoron Israel on drums, Jeff Haynes on percussion, Wayne Escoffrey on tenor, Andrae Murchison on trombone and Etienne Charles on trumpet, Scott's extraordinary vocals get the attention they deserve with tasteful colors and distinct nuance.
Released in 2009 on Ttocs Music, DREAM FOR ONE BRIGHT WORLD was produced by Scott along with executive producer Ronald Reel. The CD shipped to radio in June 2009, and hit #1 with Media Guide as the most added to jazz radio play lists around the USA. It reached #2 for chart bound before the release date. Scott says, "She knew an original independent project would be a big risk with Jazz radio, but she was determined to record and release her stories." The CD currently resides in the bullet Top 50 Jazzweek chart for several weeks. The album is available on her website, http://www.cynthiascott.com, itunes, cdbaby, amazon and other select stores.
To schedule interviews or to receive review copies please call: 212 862-2200
For more information, please visit Cynthia Scott's website at http://www.cynthiascott.com
About Cynthia Scott:
Cynthia Scott has performed for audiences from New York to Africa, Europe and Asia and has worked with musicians including Wynton Marsalis and Ray Charles, who discovered her. She's performed at The Kennedy Center, served as a 2004 Jazz Ambassador in conjunction with The Kennedy Center and The State Department. Scott was the first to sing and test the new Rose Room at Jazz at Lincoln Center in New York City.
Scott has self- produced five CD's. "Dream For One Bright World" is her first completely original album, and plans for the next project are in the works. She holds a Master's degree from the Manhattan School of Music, and advises others "not to overlook the importance of an education while pursuing their dream." Scott, a native of El Dorado, Arkansas, currently lives in NYC.
Critical Acclaim:
"A mesmerizing vocalist." Howard Reich, Chicago Tribune's
"The whole focus of the United Nations Millennium goal is to reach around the globe. We all share the same emotions, same burdens. This beautiful soulful message by Cynthia Scott gets to the core of the people the world over. Music breaks thru the language barrier."

Gloria Starr Kins United Nation Correspondent
"With the release of this CD, Cynthia Scott has found her true groove, delivering stories that can only be told with original words and music. These songs are slices of life, done with power, conviction and soul, revealing creativity and versatility…"

"Don't sleep on this one." - Sheila Anderson, WBGO Radio
"This album is full of songs that I urge all chorus teachers in New York City and elsewhere to play in the classrooms….What a beautiful result." - Cathy Gruenfeld, Jazz Improv
###