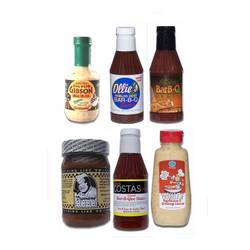 initial pepper flavor with lingering tangy taste
Birmingham, AL (PRWEB) August 25, 2009
Before buying BBQ sauce for Labor Day, listern to what The Foodies have to say. Alabama Goods recently hosted a BBQ sauce taste test for a group of hard-core southerners with discriminating palates who call themselves the Foodies. With this group, the art of tasting sauce was elevated to connoisseur's experience. They tested commercially available barbeque sauces made in Alabama. Concealing the brand name, each participant was asked to dip a bit of pork roast in each sauce, and then clear their palate with a bite of white bread before trying the next. Each taster was asked to describe each sauce. As this group knows food and subtle nuances, their comments were colorful and imaginative. If you like a little spice, a little sweet or a traditional multi-purpose sauce, this handy guide can help create the ultimate Alabama BBQ experience.
The tasters truly enjoyed Costa's Bar-B-Q Sauce. They thought it was the "complete package." From the "good mouth feel" to its "collection of interesting flavors," this sauce was hit. This Alabama made sauce comes recommended as a great, all-around sauce that would be compelling on any cut of BBQ meat.
The tasters appreciate Ollies Bar-B-Q Sauce for its spicy nature with a kick. One taster described the sauce as "hearty and full-flavored with a long, low burn.' Its minimal tomato taste was favored with those who think that ketchup is for french fries.
The Golden Rule Barbeque Sauce as a hit with the tasters who appreciate a tangy tomato sauce flavored BBQ. It was found to be "well-mannered with an unanticipated ending" of a mild spice.
Overall, the tasters noticed the "initial pepper flavor with lingering tangy taste" of Big Bob Gibson's White Sauce. The Foodies wanted to experience this sauce on vegetables and chicken too.
When you are search for something unique, Montego Joe's White Sauce will fit the bill. This sauce was found to be kid-friendly with its tart and creamy nature. Additionally, the squeeze bottle makes it easy to use at any age. It would be good on chicken or vegetables too.
This tangy Dreamland Bare-B-Que Sauce was appreciated by those who love well-prepared meat as the taste of the sauce did not over whelm the taste of the meat. The light cayenne pepper taste gives it a small zip.
The smokey nature of Bob Sykes Barbeque is enhanced by its vinegar overtones. It could be added to other sauces to create an interesting marinade, dressing or soup.
With a sincere southern drawl, one Foodie commented, "If a woman in Alabama wants to attract a man, she should just dab on some BBQ sauce." Whether dabbed, dribbled or devoured, the unique flavors of Alabama barbeque give any mouth a reason to smile.
About AlabaamaGoods.com.
AlabamaGoods.com is the premier source for Alabama made food and gifts. It's the online source for artisans, bakers and cooks, craftsmen and designers around the State who create authentic products that reflect the unique characteristic of Alabama's charm, culture and essence.
Contact:
Sherry Hartley, President
AlabamaGoods.com
205-566-8720
http://alabamagoods.com/
###