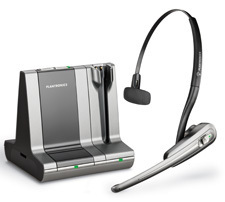 We're in a unique position to see trends as they begin
Prescott, Arizona (PRWEB) August 26, 2009
Headsets Direct, an authorized Plantronics stocking distributor since 1996, repurposed the Headsets Direct blog to become a real-time help desk for questions regarding Plantronics headsets (http://www.headsetsdirect.com/plantronics/plantronics_headsets.html ) and accessories. Headsets Direct sees this change as a logical extension of its core philosophy of educating customers and making the process of selecting and using telephone headsets simple and risk-free.
The blog is updated daily to reflect questions Headsets Direct's team of full-time Plantronics headset experts field on its website and by telephone. "We're in a unique position to see trends as they begin," states Wayne Baumgartner, owner of Headsets Direct. "Plantronics may introduce a new line of wireless headsets (http://www.headsetsdirect.com/plantronics/plxc.html ), or a manufacturer may change or upgrade equipment our Plantronics headsets connect to. In either case we start receiving questions almost immediately. For every person who calls or chats with us online there are probably 10 more out there searching with the same question. Our blog publishes the answers in a searchable form for those people," adds Baumgartner.
Questions and answers range from the simple, "How can I let people know I'm on a call when I'm using my wireless headset?" to not so simple issues concerning firmware updates, adapters and ports that affect both corded and wireless headsets. The blog/help desk idea makes sense as computers and telephone systems continue to work more closely together and Plantronics headsets do more and more.
Headsets Direct's new blog/help desk is available at http://www.headsetsdirect.com/blog/ and is a resource for current owners of Plantronics headsets, regardless of where they bought their headset, as well as those still shopping.
Headsets Direct is an authorized Plantronics stocking distributor that focuses on making the process of purchasing and using telephone headsets simple and stress-free for small to medium size businesses. It does so by employing salaried, knowledgeable headset experts who use what they sell and stocking one of the most complete selections of Plantronics corded and wireless headsets and accessories, allowing it to ship 97% of its orders the same day. The company also extends a full 60-day money back guarantee to give customers the time to make sound, voice and wearing adjustments for their unique work environment.
Headsets Direct can be contacted at:
1454 W. Gurley St., Ste. A, Prescott, Arizona, 86305 USA
1-888-244-0483 Toll Free, 928-777-9100 Telephone, 928-777-9120 Fax
Plantronics is a registered trademark of Plantronics, Inc.
# # #