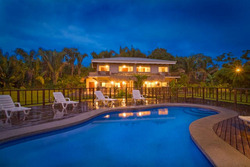 The Villas are an extraordinary blend of 5-star hotel, home-away-from-home, and splendid resort
Quepos, Costa Rica (PRWEB) August 26, 2009
Costa Rica is becoming a premiere hot spot for celebrities this year. Natasha Bedingfield, Britney Spears, Mel Gibson all kicked off their shoes and enjoyed vacations in Costa Rica recently. Now Villas Tranquilas, a new six-acre tropical rainforest paradise, offers luxury and affordability to all walks of life.
Villas Tranquilas Town Homes, a Costa Rican vacation rental, launches a new all-inclusive website this month. Vacationers shopping for Costa Rica tours in Manuel Antonio and Quepos will find rainforest excursions, fishing charters, restaurants, and exotic beaches all in one location. Since 2007, Villas Tranquilas ranks #1 for insider knowledge and exemplary service on Trip Advisor's Specialty Lodging in Quepos. Now Villas Tranquilas expands their service by giving travelers an online menu of local sights, attractions, and adventure tours in Quepos Manuel Antonio.
Villas Tranquilas maintains relationships with many tour providers offering new experiences for adrenaline junkies, those preferring relaxed informative tours, and everything in between. Rainforest adventure tours include canyoning, waterfall rappelling, and zip lining over the forest canopy. Easier days can include relaxing plantation tours, a river float through the mangrove forest, and beach horseback riding. All trips are described in detail in one tidy online location.
Villas' past guests offer reviews and tips (via the website) to incoming travelers for hot spots, guides, and tours: "The Villas are an extraordinary blend of 5-star hotel, home-away-from-home, and splendid resort" -- Terry Jertberg, High Roller Lures. These first-hand opinions make it easy for new guests to tailor their vacation packages based on budget, adventure tolerance, and available time. Saving travelers research time and money increases the value Villas Tranquilas already delivers via their new modern, luxury accommodations.
As thousands of visitors descend upon the internationally famous Manuel Antonio National Park this holiday season, the stars and everyday folks alike can escape to their home away from home in the Costa Rican rainforest.
Villas Tranquilas: a modern six-acre rainforest retreat in Quepos, Costa Rica. Villas strives for sustainable hospitality, supports local farmers, and partners with conservation groups like Mono Titi Alliance. For more information visit Villas Tranquilas online at: http://www.villastranquilas.com
Media Contact:
Courtney Marchesani
206.854.8828
###