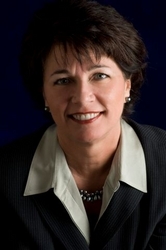 Nashville, TN (Vocus) August 25, 2009
Ronald L. Samuels, Chairman, CEO and President of Avenue Bank, today announced two promotions at Avenue Bank.
Vickie Storm has been promoted to Executive Vice President for Avenue Bank. She is also the Director of Client Services. Ms. Storm has more than 25 years of experience in the financial services industry, with a focus in sales management and leadership roles. She joined Avenue Bank in August of 2007 as Senior Vice President and Director of Client Services.
Ms. Storm currently serves on the Executive Board of Directors for the Crohn's & Colitis Foundation of America, Tennessee Chapter.
Abby Flittner is now a Credit Underwriter for Avenue Bank. She joined the Avenue team as a Receptionist in May of 2008.
Ms. Flittner recently completed her Master's degree in accounting from Middle Tennessee State University. She received her Bachelor's in business administration and accounting from the University of Tennessee, Knoxville, in May of 2008.
Avenue Bank now has four branch offices in Nashville and Franklin, and the Mortgage Division is located in the bank's building at 3823 Cleghorn Avenue, which houses the Green Hills branch. Avenue Bank is headquartered in the historic Baggage Building at Union Station.
ABOUT AVENUE BANK
Avenue Bank opened in July, 2007, and aims to be Nashville's signature bank. Avenue Bank offers business and personal banking services through a team of professionals dedicated to serving the creative spirit of Nashville. The bank's name reflects the creative, entrepreneurial, friendly and boutique environment which customers immediately experience on arrival - including Avenue's unique "concierge service." Avenue Bank's headquarters office is in the historic Baggage Building at Union Station, with branches in Nashville and Franklin. For more information, visit http://www.thedifferenceisreal.com
CONTACTS:
Lisa Meiers (615) 744-2902
Elizabeth Fielding (615) 321-3110
###