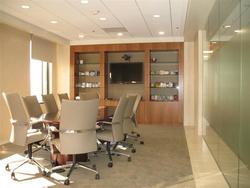 Adding the San Francisco and Philadelphia spaces reflects PNC's commitment to growing its portfolio of LEED-certified facilities.
Pittsburgh, PA (PRWEB) August 26, 2009
The U.S. Green Building Council (USGBC) has certified office space occupied by the PNC Financial Services Group (NYSE: PNC) on both coasts, continuing an aggressive build-out of PNC facilities with the environment in mind.
PNC, which has more newly-constructed LEED-certified green buildings (66) than any company in the world, recently earned a silver level Leadership in Energy and Environmental Design for Commercial Interiors (LEED-CI) rating for its offices in San Francisco's Financial District. PNC also received the LEED-CI Gold rating for its Green Branch® location at the Navy Yard in Philadelphia.
LEED for Commercial Interiors recognizes high-performance green interiors that are healthy, productive places to work; less costly to operate and maintain and have a reduced environmental footprint.
PNC's offices in San Francisco are the first LEED-certified commercial interior in the 40-year old, 40-floor high-rise. PNC's real estate finance, business credit and mergers and acquisitions advisory firm occupy the 34,000 square feet space. Highlights of the space, which led to LEED-CI certification, include:

PNC had its contractor divert more than 75 percent of construction waste from landfills. Materials such as cardboard, metal, plastic, glass, gypsum board and insulation were recycled.
The offices' lighting, HVAC and appliances comply with the New Building Institute's Advanced Building Energy Benchmark for High Performance Buildings and Energy Star requirements to optimize energy performance.
Flow restrictors help to save water.
PNC purchases wind power to offset 100 percent of power usage.
Indoor air filtration was managed to reduce pollutants, and composite wood products and reduced chemical-emitting paints and adhesives were used.
"The projects represent PNC's pursuit of innovation and cutting-edge technology to make these facilities leaders of sustainable design and healthy places to work," said Gary Saulson, PNC director of corporate real estate. "Adding the San Francisco and Philadelphia spaces reflects PNC's commitment to growing its portfolio of LEED-certified facilities."
PNC, whose leadership in green construction was recognized by the U.S. Patent & Trademark Office when it was granted a registered trademark for the term "Green Branch," began its aggressive building program with the construction of PNC Firstside Center, the first building certified under LEED 2.0 in 2000. Starting in 2002, PNC was the first major U.S. bank to design and construct branches based on green building standards.
The company continues its ambitious green building plans with a number of projects in progress or planned for the near future. These include:
A 6-story, 24 ton Green Living™ Wall, expected to be the largest in North America, is slated to be completed on Pittsburgh's One PNC Plaza in September.
PNC currently has 11 more branches awaiting LEED certification along with six Green Branch® locations under construction with the goal of opening by the end of 2009.
The 23-story Three PNC Plaza, a mixed-use building in Pittsburgh which includes a Fairmont Hotel, offices and condominiums, is near completion. The building is expected to be certified under multiple LEED categories.
PNC's regional headquarters in Washington, D.C., 800 17th Street/PNC Place, is expected to be completed in 2010 with the goal of LEED Platinum certification.
Based in Washington, D.C., the USGBC is the nation's leading coalition of corporations, builders, federal and local agencies working together to promote buildings that are environmentally responsible and healthy places to live and work. The USGBC awards certification based for construction and design.
The PNC Financial Services Group, Inc. (http://www.pnc.com) is one of the nation's largest diversified financial services organizations providing retail and business banking; residential mortgage banking; specialized services for corporations and government entities, including corporate banking, real estate finance and asset-based lending; wealth management; asset management and global fund services.
###