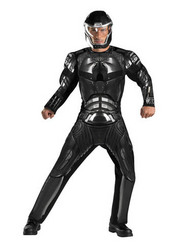 We all remember G.I. JOE from growing up. It's exciting to have an old favorite redone in a selection of Halloween costumes for our children to enjoy
Rancho Palos Verdes, CA (PRWEB) August 26, 2009
Costume Cauldron has recently launched its authentic line of G.I. JOE Halloween costumes for this year's Halloween trick or treaters as well as for those who are young at heart.
Costume Cauldron is the Internet's finest web store with over 10,000 adult Halloween costumes, children's costumes, costume accessories, props and costume party favors ideal for every type of theme party. Skillfully designed and produced under original license, G.I. JOE costumes from the company are meant to capture the true essence of these Hasbro action figures, cartoon characters turned box office movie heros, all in their grandeur and military splendor.
The Duke styled Halloween costumes, which is available in two children's sizes, gives trick or treaters and young Halloween party goers a real chance to be the real thing. The GI Duke costume sizes 4-6 and 7-8 for little ones are made from durable premium fabric in black and designed like a jump suit. The costume comes with a matching mask closely coordinated to resemble the authentic character. The GI Duke Muscle Adult on the other hand, gives all the big boys a chance to connect with their childhoods and defeat the forces of COBRA on Halloween night in this brand new character costume. Also inspired by the recent movie, it features a jumpsuit with stuffed armor torso and a matching helmet, perfect for adult sizes 42-46. Complimenting this Halloween costumes patriotic sentiment is the Snake Eyes costume, perfect for the darker side of G.I. JOE. The Snake Eyes muscle Halloween costume s come in two sizes--medium and small. The immaculately fashioned jumpsuit, true color with a muscle torso and arms, features a scary fabric hood with visor. "We all remember G.I. JOE from growing up. It's exciting to have an old favorite redone in a selection of Halloween costumes for our children to enjoy," remarks Customer Service Representative Stacey Ford, who works closely with Moms and Dads looking for costume recommendations for their excited little heroes.
To project a more elaborate look for the Snake Eyes costume, Ms. Ford suggests the newly arrived Snake Eyes Combat Vest & Holder; a black combat vest and holster which comes with four pockets and features a criss-cross strapping motif, can be worn over a regular outfit with no compromise to appeal and Halloween splendor.
Ever since their introduction on February 2, 1964, The G.I. JOE line of 12" action figures has captured the imagination of many young boys and a girl or two on the way. The doll's designed was inspired by a nation's deep association and involvement with several wars in which the US participated in the forties, fifties and sixties. The four action figures, which were introduced with much fanfare, represented the four wings of the US defense forces. They were the Action Soldier (Army), Action Sailor (Navy), Action Pilot (Air Force) and the Action Marine (Marines). The G.I. JOE battalion has undergone a true metamorphosis over the years like just about every other line of dolls . In 1982, G.I. JOE was relaunched in a 3 3/4-inch scale complete with combat vehicles, brightly colored playsets, and a complex background epic saga involving an ongoing cosmic struggle between the G.I. JOE Team and the evil Cobra Command, which was eventually showcased for children in 1985 in the series G.I. JOE: A Real American Hero.
The popularity of G.I. JOE Halloween costumes can also be attributed to the phenomenal success of the movie G.I. JOE: The Rise of Cobra, A $170 million action bonanza directed by Stephen Sommers starring Channing Tatum in the role of Duke, and Joseph Gordon-Levitt in the role of Cobra Commander. Strategically positioned as a franchise, we are sure to witness more than one sequel in the near future, hopefully one by Halloween 2010.
About Costume Cauldron
Costume Cauldron is an e-commerce store retailing Halloween costumes for children, teens and adults. The company provides more than ten thousand items; Halloween costumes, props and accessories in a wide variety of colors, shapes and sizes to suit every Halloween costume themed party. Costume Cauldron deploys a state-of-the-art website to enhance the customer buying experience and is further enhanced through telephone, e-mail and live chat customer support.
###