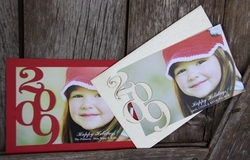 Appleton, WI (Vocus) August 25, 2009
RUVAcards, personalized greetings, continues to create products that strength connections between family and friends, near or far. During the frenzied days of the holiday season, one of the rare times people slow down is when they stop to open cards from family and friends and delight in the well wishes received. It's always enjoyable to get pictures of growing children, expanding families, and letters that reflect on the year gone by. Today RUVAcards reveals many stylish, unique ways to elevate the common holiday photo card and letter to something unique and special.
Thankful for a Year of Blessings, Time Flies and Cherish the Moments with Family and Friends: by Michelle Snyder, NY is a popular new line from RUVAcards. The line is an artistic alternative to the traditional letter with poetry-like text flowing across the outside blending with well-placed photography inside, all coming together to tell the story of the past year in words and pictures.
Another new Line exclusively from RUVAcards is the 'It's So You' line. by Katblu. RUVAcards new exclusive line by Kathy Beilfuss of Katblustudio makes the picture look fabulous by combining an original laser cut photo holder along with a personalized printed card. Coming soon to the line are laser cut party invitations and personalized stationery.
Matchbook Photo Holder and Card and Flat Cards by Zoom in Design, CA are also a new addition to the RUVAcards line. The Matchbook Holiday Photo holder is a personalized jacket cover that holds multiple personalized photo cards and snap shots. Customers can order just the outside jacket and if so desired the coordinating flat card. The Flat Cards are modern and chic with a web inspired look.
RUVAcards, personalized greeting, works with designers from coast to coast developing greeting cards, photo birth announcements, Christmas cards, party invitations, personalized stationery witty enough to inspire your own creative message. 100% Mom-Owned with designers and production artists on staff to assist customers with every step. RUVAcards selected the Utopia Line by Apple-ton Coated as a source for Eco-Friendly Paper. Their commitment to green technology and recycled content throughout their company is outstanding. All products are printed, manufactured, designed in the USA. Recently mentioned on coolmompicks.com urbanbaby.com, and people.com.
Contact:
ChicExecs PR
760.992.9113
http://www.chicexecs.com
ChicExecs PR is an "out of the box" PR company which represents over 70 clients. ChicExecs has created an innovative approach to PR dedicated to helping small-medium business receive media coverage. Our revolutionary automated system is changing the face of PR. For more information visit http://www.chicexecs.com.
# # #