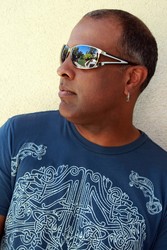 I've got a great young songwriter and singer out of Baltimore named Kentavius Jones who's like a black John Mayer
New York, NY (PRWEB) August 25, 2009
Red Hot Music Producer Rex Rideout continues his hot hand cranking out the hits for some of the music industry's most successful recording artists - from Will Downing, Ledisi, Lalah Hathaway, Vanessa Williams, the Frankie Beverly and Maze All StarTribute CD and many more.
Following years of building a reputation with excellence, versatility and consistency, multi-faceted musician Rex Rideout has quietly yet undeniably become a super producer for artists across the causeways of pop and Urban Contemporary R&B. The summer of 2009 finds Rideout navigating a wave of escalating and enviable ubiquity as the musical force behind four frontline projects: the multi-artist tribute CD Silky Soul Music…. An All-Star Tribute to Maze featuring Frankie Beverly, double Grammy-nominee Ledisi's electrifying Turn Me Loose, singer/actress Vanessa Williams' latest Latin jazz-kissed truffle The Real Thing, and the crowned prince of sophisticated soul Will Downing's triumphant new masterwork Classique. Along with Lalah Hathaway's mesmerizing Self Portrait CD from last year and a slew of contributions to projects by the biggest names in instrumental pop-jazz, it has suddenly become commonplace for Rideout to turn on the radio and hear three of his productions play back to back.
Rex Rideout now finds himself the man of the hour - in the eye of the perfect storm where the return of grown folks Rhythm and Blues is concerned. "I see R&B coming back stronger than ever," he states. "As artists and their audiences grow older, they crave music with more substance. My background has prepared me to provide these artists with the richer level of production necessary when they're ready to stretch beyond programmed tracks." Case in point, the Silky Soul Music project - spearheaded by Frankie's son Anthony Beverly - which found Rex recording instrumental tracks in L.A. faithful to Maze's timeless originals, then travelling across the country to capture contemporary magic in a bottle from some of the brightest in the business: Mary J. Blige, KEM, Raheem DeVaughan, Avant, Kevon Edmonds, Musiq Soulchild and JOE, whose lead-off single, "Can't Get Over You," is casting a spell over Urban Adult Contemporary radio. Mixing Engineer Ray Bardani, a frequent studio collaborator with Rex, comments, "The reason I love working with Rex is because no matter how varied the music, he's always very sensitive to the artist and actually cares about how the record sounds. It's why we complement each other so well and what makes working together enjoyable."
"The industry is finally seeing me for everything I'm capable of contributing to today's music," Rex concludes. "I feel good about the quality of the work and I'm growing. It's been a good year."
In addition to ushering a renaissance in quality R&B, Pittsburgh native Rideout is knee deep in projects that bring together winning artists for worthy causes. A percentage of the proceeds from Forever, For Always, For Luther were earmarked to benefit heart and stroke research organizations. And a more recent multi-artist project that Rideout helmed titled Shades of a Woman was created to bring awareness to African American women on the prevention and early detection of breast cancer. His dedication to battling that cause continues with an exciting all-star Fall release he produced in conjunction with the provocative new fashion company PRVCY Wear Premium - creators of a high-end denim line that is stirring lots of attention.
It's all part of the innovation that has made Rex Rideout the busiest producer in Urban AC R&B. As if his professional endeavors aren't enough, Rex is fortunate on the home front to be married to his beautiful wife Joi Rideout, VP of Business Affairs for Warner Tele-Pictures. The power couple is successfully raising a son and a daughter while juggling the demands of their respective high-pressure careers.
Next for Rex is the launch of new artists he is developing via his 4847 Records/Productions Company. "I've got a great young songwriter and singer out of Baltimore named Kentavius Jones who's like a black John Mayer," Rex shares. "And I have a 19 year-old singer/pianist named Ryn Nicole who I see as an urban pop answer to Adele or Jewel." Rex is even looking fondly back to his jazz roots with plans to put together a band that will organically hone a sound through consistent gigging on the club circuit.
Lalah Hathaway says it best in summing up the dynamic effect that Rex Rideout is having on the landscape of contemporary music. "A producer's job is to bring to life the vision of the artist. Rex Rideout really meets that challenge. He is a musicians' producer in the traditional sense, and they don't even make those anymore... Some of my best times making a record have been with him - and, of course, he helped me make my first #1 record! Clearly, I hold Rex in very high esteem. I look forward to hearing anything he's involved in, and to working with him again."
Contact:
J'ai St. Laurent-Smyth
Inque Public Relations
732.254.0607
###