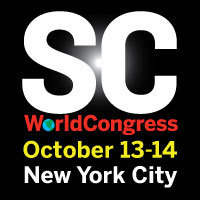 I am looking forward to both presenting and attending. There will be a tremendous amount of collected knowledge that will help facilitate a better and more clear understanding of today's information security challenges.
New York, NY (PRWEB) August 25, 2009
Today, SC Magazine opened public registration and announced the preliminary agenda of events, speakers and conference tracks for the second annual SC World Congress Conference and Expo to be held in New York City on October 13-14, 2009.
Building on the success of last year's inaugural event, SC World Congress 2009 will feature timely keynote addresses and presentations from some of the security industry's most prominent and influential luminaries, including:
Bob Carr, chairman and CEO, Heartland Payment Systems

Bob Carr founded Heartland Payment Systems, the nation's fifth largest payments processor, in 1997. In this discussion, Carr details the lessons learned and the crusade he has undertaken to strengthen credit card payment data security in the wake of the Heartland Payment breach, including a huge push to mandate the use of encryption technologies in the process to benefit the industry, merchants and consumers.
William E. Kovacic, commissioner, Federal Trade Commission

William E. Kovacic has served on the Federal Trade Commission since January 2006, and served as chairman from March 2008 until March 2009. With the economy challenged with recession, many are turning to financial fraud and other information crimes. Kovacic will detail recent cases examples of how internet-related crime continues to increase and how it is being addressed by governing bodies like the Federal Trade Commission.
Jim Nelms, CISO, The World Bank, Treasury

Since 1996, Jim Nelms has been responsible for the information security and risk management infrastructure for the Treasury as well as the security of all related financial services worldwide. In his presentation, Nelms will discuss the growing trend of the insider threat and how this danger is being amplified by the recession as organizations continue to lay off countless workers.
In addition to these and dozens of other presentations from esteemed security leaders, the conference has four information tracks designed to increase the security professionals' knowledge: Policy/Management, Emerging Threats/Risk Planning, Editor's Choice and Technical requirements and advances. Through these tracks, attendees will examine topics ranging from data theft and compliance to establishing partnerships between government and the private sector, security awareness to critical infrastructure protection, and from SCADA attacks to cyberwarfare.
"For an entire year - since the success of our inaugural SC World Congress - we've been working to solicit input from our readers' about what they want to experience at the East Coast's largest security event, and working to build an agenda that exceeds their expectations," said Illena Armstrong, editor-in-chief, SC Magazine. "We are proud to say that for the 2009 SC World Congress, we have put together the most comprehensive and exciting roster of informative experts, special events and talk tracks to share the latest and greatest the information security world has to share."
A full list of speakers, a conference agenda, media partners, sponsors and participant registration can be found at http://www.scworldcongress.com.
In addition to the presentation tracks and keynotes, the SC World Congress has put together two events wholly unique to international security conferences:
Events Unique to SC World Congress
Your Day in Court - Turning Legalize and Security-ize into Jury-ize

A mock trial of a computer crime case presented by the U.S. Department of Justice, the Secret Service and Homeland Defense experts. As the jury, the audience will participate in a mock trial of a case relying heavily on electronic forensic evidence - while real prosecutors, lawyers, judges and FBI professional witnesses present the case. In today's world of cybercrime and e-discovery, this session will arm SC World Congress delegates with the facts and advice needed to find success in front of a judge and jury, in an innovative, interactive and unique format.
The Security Innovators Throwdown

During which leading young companies, chosen by SC Magazine, will present their goals for their newly developed technologies or services before a judging panel of experts.
Judges will assess which vendors have the most considered business plans and most robust tools that not only could garner interest from buyers, but also possible investment from venture capitalists (VCs).
The ultimate goal of this event is to help find ground-breaking cybersecurity technologies and services, showcase them before the industry, and educate and gather the venture capital and investor community to support continuing innovation.
SC Magazine is looking for individuals or start-up companies that want their technologies seen, critiqued and championed through the influential power and industry reach of SC Magazine. Additional information on event details and how to apply can be found at http://www.scmagazineus.com/SCWCThrowdown/section/1013/.
"With the innovative agenda and superb quality of the presenters, the 2009 SC Magazine World Congress is the place for security professionals to learn more about the latest in the ever-shifting security landscape," said Jim Nelms, CISO, The World Bank, Treasury. "I am looking forward to both presenting and attending. There will be a tremendous amount of collected knowledge that will help facilitate a better and more clear understanding of today's information security challenges."
Registration for the conference is currently open. To register for the conference, please visit http://www.scworldcongress.com.
About SC Magazine:
SC Magazine provides IT security professionals with in-depth and unbiased information through timely news, comprehensive analysis, cutting-edge features, contributions from thought leaders and the best, most extensive collection of product reviews in the business. By offering a consolidated view of IT security through independent product tests and well-researched editorial content that provides the contextual backdrop for how these IT security tools will address larger demands put on businesses today, SC Magazine enables IT security pros to make the right security decisions for their companies. The brand's portfolio includes the SC World Conference and Expo, SC Magazine Awards, SC Directory, SC Magazine Newswire and SC Magazine IT Security Executives Forums.
Contacts:
Sponsorship / vendor showcase:
Mike Alessie
646-638-6002
Media:
Matthew Mors
206-992-7518
###