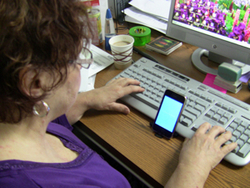 Schenectady, NY (PRWEB) August 25, 2009
As millions of college students head off to school, they're forced to trade carefree summer routines for rigorous winter class schedules, and this trade-off eventually leads to exhaustion. A recent study published in the Journal of Adolescent Health found that only 30% of college students get enough sleep. Part of this trend is due to the stress of school life, triggering procrastination and late night cramming sessions. While students try to pack their class schedules and party time into one extreme day, their sleep patterns become disturbed. This cycle depletes physical energy and mental alertness, but have no fear -- there's an app for that.
Launched this week by GSC Products, BluWave uses therapeutic blue light to invigorate the mind and body by fooling the biological clock to help over-tired college students beat the "Study Fatigue Blues". The BluWave iPhone app uses light emitting diode (LED) technology to deliver an adjustable panel of blue light through the screens of iPhones and iPods. BluWave also features an audio mode with relaxing natural sounds including ocean, rain, nature, waterfalls and wind.
Clinical studies show blue light to be more effective than even caffeine for boosting mental alertness for hi-focus activities such as reading and writing. Blue light is especially effective during the fall and winter months when most people experience natural light deficiency. The light works through receptors in the back of the eyes, triggering the brain to release chemicals that boost mental and physical energy. Since the eyelids are so thin and the receptors so sensitive, blue light even works when the eyes are closed. Blue light tricks the brain into believing it's time to wake up. Since college students spend their study time in dimly lit rooms without much natural light, BluWave is perfectly suited for college life.
"The key is to provide light only in the blue spectrum, and BluWave does that by being adjustable with the flick of your finger. Since individual people react differently to blue light, we made it adjustable so users could find the wavelength that works best for them. We all respond to blue light, but I might have a better effect at the top of the spectrum while other people may respond better to lower wavelengths. This app is designed to compliment everyone," says Wayne Perry, founder of GSC Products.
So far the reviews have been excellent, and BluWave has already cracked the Top 100 in the Health & Fitness category at the iTunes App Store. One of the first reviews came from Craig Kozloski of Phoenix, Arizona. Craig drives long distances for his job and aside from helping him beat drowsy driving, he also claims BluWave helps his mental focus when reading and studying.
"Sometimes I have to read through work related technical information and I tried Blu Wave while reading some really boring literature. I could stay focused and my mind did not wander as it usually does while Blu Wave was running on my iPhone nearby. This will save me a ton of time since I usually have to read these things through several times to make sure I comprehend all of the details. With this app running, I get it the first time," says Craig.
BluWave is presently available for the iPhone and iPod Touch for $1.99 at the iTunes App Store. Promotional downloads are available for qualified media and reviewers upon request.
###