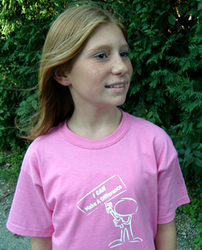 It's a motto that everyone can ― and should ― pursue.
Delavan, WI (PRWEB) August 25, 2009
MeDoGood, Inc., an emerging leader in the development and sales of "positive message" apparel, today announced the launch of their MeDoGood at School program. The program, which kicks off August 25, 2009, offers significant sales discounts to elementary, middle and high school staff and faculty. An official end date has not been set for the program. This open-ended arrangement underscores MeDoGood's passionate and ongoing support for the education community.
MeDoGood at School participants receive a special 33% sales discount. All design screens, set-up, and shipping fees are waived. In addition, MeDoGood will work with each school to create more customized clothing by blending MeDoGood's concepts, character and brand with each school's unique activities, goals and messages.
"The interest our products have already generated within the education community has been tremendous," says Brad Kaiser, Founder of MeDoGood. "School administrators and teachers are particularly sensitive to the variety of negative pressures being exerted on their students, which is why the positive messages on all MeDoGood apparel resonate so strongly with them."
As the new school year begins, Kaiser sees the potential for even more interest. "Society seems to take pride in the shock factor that a lot of t-shirts stir up," Kaiser says. "MeDoGood merchandise broadcasts responsible, positive messages and pairs them with simple but effective designs. Starting the very first day of this school year, educators and students will have a great opportunity to offer an alternative, positive message using our products."
The goal behind MeDoGood's efforts is to help foster a better, friendlier community by communicating positive messages and encouraging individuals to take responsibility for their own actions.
"It takes a certain kind of person to wear these shirts. You're making a positive statement and you're holding yourself accountable. At the same time, people who see a MeDoGood shirt are going to remind you of what you're wearing," says Kaiser. "In effect, they become your partner by helping reinforce your accountability."
Because of the general, positive messages MeDoGood creates for its apparel, the company's customer base has quickly expanded and diversified. Sales to church, corporate and entertainment groups have steadily increased. "Our motto at MeDoGood is 'Doing something good…every day!,'" says Kaiser. "It's a motto that everyone can ― and should ― pursue."
MeDoGood offers t-shirts, hoodies, tank tops, sweatshirts, and more in a variety of colors and in a complete range of sizes for men, women and youth. The company recently added 17 sports-related themes to its standard "I WILL" and "I CAN" designs. Visitors to the website are encouraged to submit their own slogans, with winning submissions added to the company's product line monthly. All apparel may be purchased directly or on-line at http://www.medogood.com.
About MeDoGood, Inc.
MeDoGood, Inc. is an emerging leader in the development and sales of "positive message" apparel. Five percent of all MeDoGood proceeds are donated to the American Autoimmune and Related Diseases Association (AARDA).
For more information or to become a program participant or customer, please contact:
MeDoGood, Inc.
Brad Kaiser, Founder
Phone: 1-888-856-3195
Website: http://www.medogood.com
###