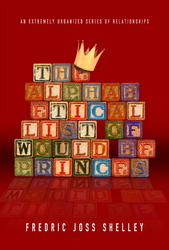 Philadelphia, PA (PRWEB) August 26, 2009
Following the success of his self-published compilation, A Boy Less Ordinary, Fredric Joss Shelley marks his return with the long-awaited new novel, The Alphabetical List of Would-Be Princes. Princes is an inventive tale about Jack Bradley, a gay man embarking on a romantic quest, with "would-be" princes occurring in alphabetical order.
Shelley, a staple of the Philadelphia arts scene, has gained a loyal following as both a writer and actor through his numerous pursuits, including his memorable characters conceived and portrayed in cult-favorite comedy troupe The Dumpsta Players. Now in its thirteenth year, The Dumpsta Players, which has often been compared to sketch comedy acts like The Kids in the Hall, The Cockettes, and Saturday Night Live, is a monthly-themed interactive improvisational theatre experience that parodies society's joys and ills in an irreverent and over-the-top style.
A Boy Less Ordinary, Fredric's previous compilation, was based on his Six Degrees of Hayden columns, which ran for six years in various gay newspapers and zines on the East Coast. Readers followed the weekly misadventures of Hayden, a highly extroverted gay socialite on the run from malicious gossip and in search of unconditional love.
With his new novel, Shelley returns with another humorous take on the search for love featuring another affable and winning gay protagonist. Princes is an inventive tale about wanting to hold on and learning to let go; looking for love and allowing love to find you; and figuring out the rules and knowing when to break them. This is the story of one bachelor with twenty-six possibilities, from A to Z. This inspiring novel will take readers on an extraordinary journey full of amorous pursuits, zinger-spouting friends, and all the letters in between.
Deftly constructed at 201 pages, The Alphabetical List of Would-Be Princes is a realistic and contemporary novel whose perspective on modern-day gay romance will resonate with readers everywhere.
Fredric will officially kick off the launch of his new novel on Saturday, September 19th, 2009 at Philadelphia's Giovanni's Room (345 S. 12th Street, Philadelphia), with a book signing and reading by the author. The Alphabetical List of Would-Be Princes is now available on Amazon and will be available soon to online retailers nationwide.
For more information, contact the author by e-mail at fredricjoss (at) gmail (dot) com
ISBN: 978-0-557-08571-2
Publisher: Lulu.com
Format: 6" x 9" paperback, $16.
###