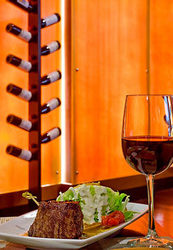 Bakersfield, CA (PRWEB) August 27, 2009
Hungry travelers looking at Bakersfield restaurants has a new option for fine dining. The Nines is offering a first class dining experience for Bakersfield residents and travelers. Located at the Marriott Bakersfield, CA Hotel at the Convention Center, The Nines is quickly making a name for itself for its exceptional food and quality service experience.
The Nines is available for parties and meetings. Customers design the menu for each event held in order to give them the most options to fit the occasion. They can select the food they want for any event and then it will be meticulously prepared. Because of the unique ability to have custom designed menus, reservations are suggested.
The Nines is special amongst restaurants in downtown Bakersfield because of its food, service and location. Connected to the Convention Center, people can take their business meetings back to the restaurant to unwind while finishing up the day's business. Because it is adjacent to the Rabobank Arena it is the perfect setting for all your pre-event dining and drinks. There are few restaurants in Bakersfield, CA which cater to the business traveler and the local community like The Nines.
The Nines is open for breakfast, lunch and dinner and offers a casual dress code.
The Nines is but one of the many amenities which the Marriott hotel in Bakersfield has to offer. The hotel provides spacious, plush rooms including state of the art electronics for business and leisure travelers. The accommodations are located in the heart of downtown Bakersfield and guests are able to enjoy the best the area has to offer.
For more information, visit the Bakersfield, CA hotel's website at: http://www.marriott.com/hotels/hotel-information/restaurant/bflmc-bakersfield-marriott-at-the-convention-center/ or call 1-800-228-9290.
About the Bakersfield Marriott at the Convention Center
The Bakersfield Marriott at the Convention Center is home of The Nines, the premier business and party dining establishment in downtown Bakersfield. With eight meeting rooms, and 14,000sq. ft of meeting space, this Bakersfield hotel has quickly become the place to travel to for business meetings and catered events. In addition the Bakersfield hotel boasts plush, spacious rooms and lots of amenities. The newly designed rooms help guests have a pleasurable stay at the Marriott. Learn more at the Bakersfield, CA hotel's website at: http://www.marriott.com/hotels/travel/bflmc-bakersfield-marriott-at-the-convention-center/
# # #