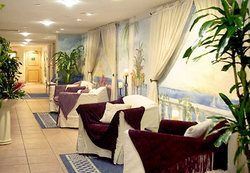 Santa Monica, CA (PRWEB) August 27, 2009
The Le Merigot Santa Monica Hotel and Spa is announcing a special deal to wipe the years away. The Tropical Oasis Body Treatment lives up to its name. It is an oasis of comfort and melts years away for only $130. Guests receive the Santa Monica hotel's all star treatment when they choose the Tropical Oasis Body Treatment at Spa Le Merigot.
The Tropical Oasis Body Treatment starts with a mango-passion fruit exfoliation and then moves onto a creamy tropical fruit and yogurt wrap. The treatment helps those who have damaged skin from the summer sun as well as age. Recipients can sit back and relax at this spa in Santa Monica while they enjoy the luxurious feel of a spa treatment.
The sun can be cruel to people in the summertime, and a spa treatment is often needed to rejuvenate the skin. The Santa Monica Spa Le Merigot offers different treatments to restore the skin and make the guest healthy once again.
This Santa Monica spa is a full service spa that has body scrubs, wraps, waxing, a steam room and much more. Guests are able to sit back and relax as the spa washes their worries away. When people look for spas in Santa Monica, CA, they want something that will pamper them, and they will get that at the Le Merigot hotel in Santa Monica.
Visitors can enjoy more than the spa. Guests of the Le Merigot, A JW Marriott Beach Hotel and Spa also receive luxurious rooms and the best in amenities. The hotel and spa gives people the chance to relax in luxury.
For more information about Spa Le Merigot, visit the Santa Monica hotel's website at: http://www.marriott.com/hotels/travel/laxlm-le-merigot-a-jw-marriott-beach-hotel-and-spa-santa-monica/ or call 310-395-9700.
About Le Merigot, A JW Marriott Beach Hotel and Spa
The Le Merigot, A JW Marriott Beach Hotel and Spa is located on the beach in Santa Monica. The hotel offers amazing views visitors are sure to enjoy. The hotel in Santa Monica is also near world class shopping and other attractions, so visitors can round out their stay with the Marriott. The hotel has a full service spa and restaurants on site. In addition, it is known for plush bedding and spacious rooms. For more information, visit the Santa Monica hotel's website at http://www.marriott.com/hotels/travel/laxlm-le-merigot-a-jw-marriott-beach-hotel-and-spa-santa-monica/
###