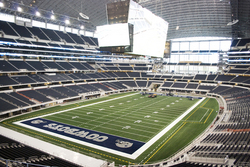 Austin, TX (PRWEB) August 27, 2009
Last Friday, the Dallas Cowboys debuted their $1.15 billion dollar stadium with glass-wrapped architecture and highly publicized digital displays. But, maybe most impressive is the patented "roll-up" turf system installed by Hellas.
The three-field convertible turf system is the most advanced turf system ever constructed for an NFL team. It easily transforms the playing surface from professional football, to college football and even to the highest level of soccer with a FIFA 2 Star Field.
While this turf field combination is the first of its kind, Hellas is not new to the sports field game--or to the Cowboys. The Austin-based sports company installed the turf at J. Walkup Skydome at North Arizona University, the Kibbie Dome at the University of Idaho, and the Alamodome, where the cowboys held their pre-season training camp and where games like the Valero Alamobowl and U.S. Army All American Bowl are held each year.
With a Cowboys hometown victory Friday against the Tennessee Titans, fans across the world look forward to watching the Cowboys upcoming season as well as the other very important games that will be held on Hellas' turf: Oklahoma vs. Brigham Young, Texas A&M vs. Arkansas, Texas Tech vs. Baylor, the Big 12 Conference Championship, the AT&T Cotton Bowl, and the 2010 Superbowl.
For more information on the SoftTop™ Removable System visit http://www.dallascowboysturf.com.
About Hellas Construction, Inc.
Headquartered in Austin, Texas, Hellas Construction is one of the largest sports and surfacing contractors in the United States. The company specializes in the general construction of sports facilities and synthetic turf installation. Current clients include the Alamodome in San Antonio, Northern Arizona University, University of Idaho, Texas Stadium, the new Dallas Cowboys stadium and numerous stadiums across the nation. For more information visit http://www.hellasconstruction.com.
###