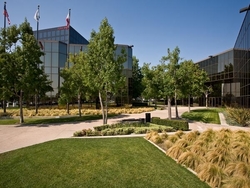 Tustin, California (Vocus) August 26, 2009
Tustin based Mission Landscape (http://www.missionlandscape.com) received first place honors and a commercial landscaping award by the CLCA (California Landscape Contractors Association) for Bixby Land Company's property, Newport Summit, located in the Newport Corridor. The Mission Landscape Companies are one of the largest full service integrated landscape providers in the United States and preeminent brands in California, serving San Diego to Sacramento and abroad. Irvine based Bixby Land Company (http://www.bixbyland.com) founded in 1896 is now a private integrated commercial real estate investment trust (REIT). Bixby Land Company's established market leadership in ground–up development, aqcuisition/disposition, operations and financing provide the human capital needed to create opportunity and maximize return.
The four Mission Landscape integrated operating units involved in the award winning five and a half acre commercial Newport Summit site were Landscape Development, Landscape Maintenance, Tree Care and Environmental Services. Bixby Land Company's goals for the Newport Summit site included reducing water usage, expanding green waste recycling and enhancing the overall property appearance and customer experience. With a shared vision for sustainability and maximizing stakeholder returns, the four Mission Landscape operating units along with the Bixby Land Company team worked collaboratively toward its goals. The scope of work included reducing turf areas, installing drought resistant grasses and initiating best-in-class water management, tree and maintenance practices. All green waste at the Newport Summit site is recycled and non contributable to local landfills. David DuBois, CEO and President of the Mission Landscape companies shared, "we're very fortunate to have such an innovative, stakeholder-centric and intelligent client like Bixby Land Company with which to work. In addition to being well respected leaders in their industry, they are also committed environmental stewards. We share a common vision and we're proud of our long term relationship with them. Winning an award with them is an honor." The Mission Landscape companies provide landscape services to several Bixby Land Company properties.
About Mission Landscape Companies
Founded in 1970, the Mission Landscape Companies, headquartered in Tustin, California, are an ESOP and a landscape leader dedicated to serving the needs of sustainable general contractors, architects, developers, property managers, landscape architects, engineers, owners, athletic directors, facility managers and municipal authorities in multiple industry segments by providing a seamless service portfolio of economical, sustainable and comprehensive landscape solutions. Mission Landscape Companies are an integrated full service landscape organization providing landscape architecture, development, maintenance, water management, tree-care and environmental resources to the Western United States and International markets. With a focus on return on investment, best practices, green and sustainable designs, safety-scapes and an outstanding customer experience, along with a roster of LEED certified landscape professionals, the Mission Landscape Companies provide its clients with a world-class value proposition. Visit http://www.missionlandscape.com for more information.
Press contact:
Judith M. Guido
(818) 800-0135
###