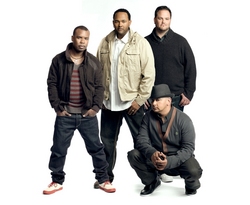 It means the world to us to be able to contribute something outside of our constant prayers that could help many people receive an extension of life
Beverly Hills, CA (PRWEB) August 25, 2009
All-4-One, the male vocal quartet that scored an international smash with the song "I Swear," is returning to recording and performing after a seven-year absence with the release of a new album on Peak Records, titled No Regrets (in stores September 15).
Launching the project in conjunction with a purpose close to the group' heart, All-4-One is sharing with the world a new song they wrote entitled "When I Needed an Angel," for which a portion of the sales proceeds will benefit Donate Life, which serves the organ and tissue transplant community. Today "When I Needed An Angel" will debut as a download on iTunes. Donate Life is launching a national campaign to promote the song - sending e-blasts across the country to all its local members and organizations - all encouraging people to go online and purchase this purposeful single.
The song can be downloaded at a cost of $.99 by going to http://www.itunes.com and entering the song title, "When I Needed an Angel," in the search area. Proceeds will be used by Donate Life affiliates to educate and inspire the community to check "yes" at DMVs and sign up to become donors on local state donor registries.
The moving chorus for the song reads as follows:
"When I needed an angel / it was you that made the sacrifice / Just in the nick of time / When I needed an angel / I didn't have to look to the sky / 'Cuz you made me realize / You were right here all the time"
This deeply poignant number has a spiritual origin. The group states, "We were inspired to write 'When I Needed an Angel' after meeting Craig and Kathleen Hostert of the wonderful Donate Life organization. They shared their personal story of how Craig received his kidney donation from Kathleen, which really touched us and motivated us to get involved with saving lives and educating people about organ donation. We also realized that their story partly parallels the story of a good friend of ours, Tyla Newbold, who we met on tour years ago and was in desperate need of a liver transplant." Tyla had been too ill to attend an All-4-One concert, so the group came to her - through phone calls and visits - always encouraging her to stay strong and stay in faith as she waited for her organ transplant.
Kathleen Hostert, manager of communications of the Southern California-based organ and tissue recovery organization OneLegacy, states, "All who are connected to organ donation are excited about the magic in this song that All-4-One has given the world. We are grateful not only for All-4-One's music, but also their generosity in sharing proceeds from sales of the song with the Donate Life community. We are thrilled to have a chance to work together to share the message that donation saves lives. Every download of 'When I Needed An Angel' will help inspire someone to become a donor and help the more than 103,000 people now waiting for a life-saving organ transplant."
Proud to be back making music for their fans and to be on board with such a meaningful cause, All-4-One is able to give back while making a most welcome comeback at the same time. "It means the world to us to be able to contribute something outside of our constant prayers that could help many people receive an extension of life," the group concludes. "That's why we really tried to write 'When I Needed An Angel' from the point of view of Craig, Kathleen, Tyla and the many others blessed to have or give a second chance at life. We are committed to getting involved with Donate Life to make a difference."
###