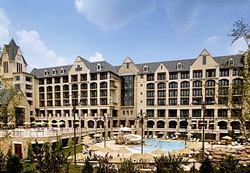 Collectively, the hotels and resorts on the RTJ Golf Trail won 11 major awards, which is unheard of in this industry
Birmingham, AL (PRWEB) August 27, 2009
Steve Miller is a rock star in the hospitality industry. Not the 80's rocker Steve Miller, but the general manager of the Renaissance Ross Bridge Golf Resort & Spa. Miller was named General Manager of the Year for Franchises by Renaissance Hotels & Resorts, an upscale brand of hotels within Marriott International. Additionally, the Renaissance Ross Bridge Birmingham, Alabama resort won a Food & Beverage Excellence Award and an award for sales leadership. The Birmingham, AL resort is part of the Resort Collection on Alabama's Robert Trent Jones Golf Trail, which is owned by the Retirement Systems of Alabama.
"Winning three top honors from Renaissance shows the quality resort we have in Alabama," said Miller, GM of the Birmingham, AL resort. "Our associates make this resort come alive and I could not be more proud of them for these honors. While I received the General Manager of the Year Award, they deserve the credit. Whether it is great feedback from meeting planners to guest satisfaction scores, Renaissance Ross Bridge continues to do well locally and within Renaissance," said Miller. "Between Ross Bridge and the other hotels and resorts in the RTJ Resort Collection, meeting planners and leisure guests are now looking at Alabama as a destination alternative and are thrilled at what they discover."
Presented in late June, the entire Resort Collection did very well in the International Marriott and Renaissance Awards competition. The Auburn/Opelika Marriott at Grand National won Marriott Franchise Hotel of the Year and also received honors for most improved market share and community service. David Clark, general manager at the Grand Hotel Marriott Resort, Golf Club & Spa won GM of the Year for Marriott franchise hotels, plus awards for guest satisfaction and Food & Beverage Excellence. The Marriott Shoals Hotel & Spa won Marriott awards for customer excellence and problem experienced excellence. "Collectively, the hotels and resorts on the RTJ Golf Trail won 11 major awards, which is unheard of in this industry," said Miller.
For more information on Renaissance Ross Bridge Golf Resort & Spa, visit the Birmingham, Alabama resort's website at http://www.marriott.com/hotels/travel/bhmhv-renaissance-ross-bridge-golf-resort-and-spa/ . The resort features 259 guest rooms, 20,000 square feet of meeting space and is surrounded by the third longest golf course in the world. Ross Bridge also is part of the RTJ Spa Trail.
Media Contact: Bill Lang, (205) 965-9574; A complete list of the awards received by the RTJ Resort Collection is available. Please let us know if you are interested in doing interviews or need any photos or other background information.
###