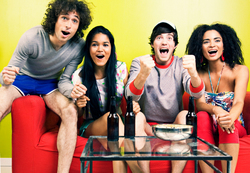 hanging out at home or at a friends house
Orchard Park, NY (PRWEB) August 26, 2009
Velvet ropes and VIP tables seem to have lost some appeal in favor of fun nights at home among young adults in the U.S.! According to a new "Eye on Cool" survey* of U.S. adults age 18-34 conducted on behalf of ROHTO eye drops, an overwhelming majority (96 %) indicated that "hanging out at home or at a friends house" is "cool," while only 45 % think trendy clubs are cool.
When it comes a night out, young adults prefer to relax with live entertainment instead of sipping overpriced drinks in dimly-lit venues. The survey revealed that nearly three-quarters (73%) of respondents think that "bars with live bands" are cool, while 56% feel that lounges are "in."
While they were popular years ago, it appears that dive bars are past their prime. Six in 10 (62%) respondents reported that dive bars are "not cool."
To help you feel your eyes feel their coolest, ROHTO eye drops are available in four formulations - new Hydra, Cool, Ice and Arctic - and retail between $6.99-$8.99 at most drug, mass and grocery outlets nationwide, as well as online at drugstore.com.
For more information, visit http://www.cool4eyes.com or http://www.facebook.com/rohtoeyedrops
*Methodology
Harris Interactive® fielded the study on behalf of ROHTO® eye drops from July 15-17, 2009 via its QuickQuerySM online omnibus service, interviewing 602 U.S. adults aged 18-34 years old. No estimates of theoretical sampling error can be calculated; a full methodology is available.
###