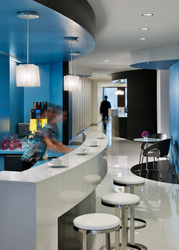 I was drawn by Wurk - Times Square's amenities
New York, NY (PRWEB) August 26, 2009
In only a little over eight month's time, Wurk - Times Square is pleased to announce that it has leased more than 75 percent of its 65,000 square feet of professional flex office space at its flagship, 1515 Broadway in Times Square.
Tenants representing a wide variety of industries ranging from non-profits, to legal, to entertainment, to financial, and more are leasing space on either the 11th or 12 floors of the 54-story SL Green-owned building, in the heart of Times Square at West 45th Street.
"Leasing activity at Wurk - Times Square has absolutely exceeded our wildest expectations," said Joseph DeTrano, Wurk's vice president of sales and business development. "We opened our doors in mid January and now, just two thirds of the way through the year, only approximately 16,000 square feet remains vacant at our flagship. There's no question that today's volatile economy coupled with our strategic Times Square location and our uniquely designed, upscale interior fit out--a juxtaposition of work areas and 'play' space--has driven tenant demand. We see no abatement in that demand, in fact many tenants are paying a premium to stay with us for far longer than is the norm for short-term users."
The wide diversity of tenants who have recently signed on at Wurk Times Square include: Earnest Represents, a male modeling agency led by Earnest Williams; USAWeb Solutions, an online marketing and web solutions firm led by Raz Choudhury; TaxSmarter.com, an online tax preparation start-up led by Austin Song; and an entertainment attorney, Carlos M. Carvajal, Esq.
"I was drawn by Wurk - Times Square's amenities," said Mr. Song. "As a startup, I have invited potential investors to visit my offices and they have been more than impressed with Wurk's imposing reception area, conference facilities and bistro, where I held a very successful cocktail party. Wurk is very flexible and accommodating on leasing terms, I hope to be headquartered here as long as possible."
Mr. Choudhury concurred, "I checked out Wurk's competitors, and none could offer the same esthetics, beautifully-furnished offices with high-end luxury finishes in such a dynamic location. It's also crucial for us to receive existing and potential clients in elegant space, which is what Wurk - Times Square is all about."
According to Mr. Carvajal, "I'm very pleased to be a tenant at Wurk Times Square, I looked at other office business centers and my observation is that Wurk is the Porsche of OBC's, compared to the other Mercedes Benz's."
"Given our success at 1515 Broadway, our corporate expansion strategy, namely to open another NYC location, as well as take the concept to tier one cities including Los Angeles, and abroad to the United Kingdom and Canada, is right on target," said Gorguin Shaikoli, Wurk Environment's vice president of marketing and brand development.
About Wurk Environments, LLC:
Wurk Environments, LLC, the leading provider of innovative professional environments, specializes in premium, short-term flexible office space, conference and meeting rooms in addition to virtual office capabilities. Wurksites, located in prestigious metropolitan addresses and/or landmarked buildings in leading cities across the nation, are designed by world-renowned architectural firms. Each site is distinctly unique, crafted to capture the vitality and personality of its surrounding neighborhood, and tastefully appointed with the latest FF&E. Serving Fortune 1000 companies, governmental agencies and discerning professionals, Wurk supports and augments each company's growth and success via an array of business resources and state-of-the-art technologies. Additional information about Wurk is available at http://www.wurkusa.com and 212.660-3940.
###