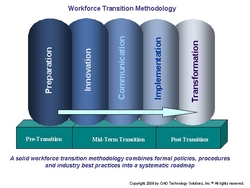 Successful workforce transitions are attributed to carefully detailed plans tailored to the customer's culture, location and population
Greenbelt, MD (PRWEB) August 26, 2009
OAO Technology Solutions, Inc. (OAOT), a global leader in managed Information Technology (IT) solutions today announced a web-based, downloadable white paper titled "Transforming IT Operations using a Strategic Workforce Transition Methodology."
With increasing demands on company leaders for improved profitability, global competitiveness and higher productivity, the decision to outsource Information Technology (IT) operations and personnel plays an important role in long-term business growth and success. By transitioning IT employees to a managed service model, businesses can achieve their strategic goals, reduce costs, improve customer satisfaction and gain other efficiency improvements.
This model allows companies to gain access to specialized or technical expertise, retain critical institutional and business operations knowledge and still derive savings and increased value through outsourcing. A workforce transition can accelerate business transformation strategies and achieve measurable performance improvements, such as:

Reducing high IT department costs or managing expenditures under a new cost model
Allowing the organization or business to focus on core competencies
Gaining fresh technical skill sets in specific areas
Enhancing the ability to remain competitive across the global landscape
Achieving relief from financial pressures through cost savings
"Successful workforce transitions are attributed to carefully detailed plans tailored to the customer's culture, location and population," stated Sid Fuchs, president and CEO of OAO Technology Solutions, Inc. "OAOT has the proven expertise, flexibility, best practices and repeatable processes to implement transitions of any size and type, while also retaining institutional knowledge."
"When an organization's core business is not IT-related, OAOT enables our customers to remain competitive, improve productivity and increase profitability," stated Cameron Chehreh, CTO and Applications Outsourcing and Staffing Solutions senior vice president and general manager for OAO Technology Solutions, Inc. "A strategic workforce transition allows a company to focus exclusively on its core business functions while their support staff is employed by a global, IT-focused organization who offers competitive compensation, benefits, training and career development opportunities."
To download the whitepaper, visit http://www.oaot.com.
About OAO Technology Solutions, Inc.:
OAOT (http://www.oaot.com) is a global leader in Managed IT Services and Solutions to Fortune 500 corporations, global outsourcers and government agencies. The Company's global expertise includes application outsourcing, data center and infrastructure management and staffing solutions. Headquartered in Greenbelt, Maryland, our 1,600 worldwide employees are located throughout the United States, Canada and Europe.
Copyright 2009 by OAO Technology Solutions, Inc. ® All rights reserved.
###