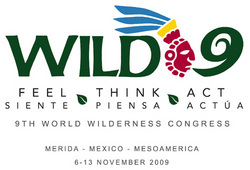 Photographers, filmmakers, journalists and other conservation media professionals will find WiLD SPEAK and WILD9 to be extremely compelling and informative, not to mention entertaining
Boulder, CO (PRWEB) August 26, 2009
World-class photographers will gather in Merida, Mexico, during the 9th World Wilderness Congress (WILD9) to present and discuss their work and its contribution to conservation efforts. They will join writers, filmmakers and conservation experts at the inaugural WiLD SPEAK, a Conservation Communications Symposium Nov. 9-12 organized by the International League of Conservation Photographers (iLCP). WiLD SPEAK provides a forum for media professionals to discuss environmental issues and themes, share strategies and technologies, and explore how their work can raise awareness and realize conservation objectives.
WiLD SPEAK will feature some 40 distinguished conservation photographers including exhibits and presentations by luminaries Art Wolfe (Window to Himalayas), Nick Nichols (Window to Africa), Tom Mangelsen (Window to North America), David Doubilet (Window to the Sea) and Jim Balog (Extreme Ice Expedition). WILD9 Expo, in the Yucatan Convention Center, will feature curated photography exhibits open to the public, and the YourSpace gallery, sponsored by Fujifilm, where attendees can print their photos and display them in a communal gallery.
"WiLD SPEAK will be the largest gathering of conservation photographers in history. They are coming because the World Wilderness Congress recognizes the unique role and impact of visual media to document, stimulate and motivate -- all fundamental to conservation efforts," said iLCP Executive Director Cristina Mittermeier.
WiLD SPEAK will include plenary sessions and discussions on strategies and issues relevant to conservation communications including trends in photojournalism, building partnerships with non-governmental organizations and leveraging new social media platforms.
WiLD SPEAK will also mark the iLCP's fourth anniversary. Kathy Moran, National Geographic Magazine senior editor for natural history, said, "Since the founding of iLCP in 2005, National Geographic has published 55 stories related to conservation that were photographed by an iLCP member -an extraordinary number that shows the commitment of the magazine to conservation, and the high-caliber of iLCP photographers. National Geographic strongly believes in the mission and effectiveness of the World Wilderness Congress and will be participating in WiLD SPEAK and other aspects of WILD9."
Other components of WiLD SPEAK include a writers' workshop and Wildscreen, a nature/environmental film festival, which will tour through Mexico ending in Merida with screenings and a closing finale.
"Photographers, filmmakers, journalists and other conservation media professionals will find WiLD SPEAK and WILD9 to be extremely compelling and informative, not to mention entertaining," said Justin Black, iLCP director and chief of staff. "It is a forum of diverse and expert perspectives on critical wilderness conservation issues, and an opportunity for media professionals to articulate what our contribution to conservation has been and can be," he added.
Register Here for WiLD SPEAK and WILD9!
Images by iLCP photographers are available for journalistic use exclusively as related to the news of this release. Please send requests to media contacts below.
WILD9 is a partnership between The WILD Foundation and Unidos para la Conservación and relies on the support and participation of many partner organizations.
iLCP (http://www.ilcp.com ) Our mission is to further environmental and cultural conservation through ethical photography. The iLCP is a project-driven organization, with a vision to translate conservation science into compelling visual messages targeted to specific audiences. iLCP works with leading scientists, policy makers, government leaders and conservation groups to produce the highest-quality documentary images of both the beauty and wonder of the natural world and the challenges facing it. From poaching to global warming, from habitat loss to cultural erosion, from sustainability to biological corridors, the work of conservation photographers covers the entire range of threats to biodiversity and is indeed a critical component in the conservation toolbox.
The WILD Foundation (http://www.wild.org ) Founded in 1974, WILD is the only international organization dedicated entirely and explicitly to wilderness protection around the world. WILD works to protect the planet's last wild places and the wildlife and people who depend upon them, because wilderness areas provide essential social, spiritual, biological and economic benefits. We believe that intact wilderness areas are an essential core element of a healthy modern society.
Unidos para la Conservación (http://www.unidosparalaconservacion.org ) Founded in 1992, Unidos is a nonprofit Mexican conservation organization that has actively promoted the concept of wilderness conservation in Mexico. Its working strategy combines the establishment of alliances with government, non-profit and corporate partners with the promotion of a conservation culture through publications and films in a search of conservation solutions through specific action.
Media Contacts:
Susan Bruce (Boulder, CO) susan (at) wild9 (dot) org 1 404 593 6391
Mikael Castro (Arlington, VA) mikael (at) ilcp (dot) com 1 301 538 2358
Silvia Casellas (Barcelona, Spain) silvia (at) wild9 (dot) org 34 934 343 715
Karin Ridgers (Essex, UK) info (at) mad-promotions (dot) com 44 (0)1277 653603
Daniela Palma (Mexico City) daniela (at) wild9 (dot) org 52 55 5615 9650
###