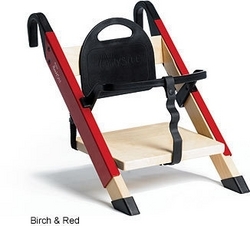 Because the new Chair is compatible with any minui HandySitt portable high chair ever sold, there's huge promise to expand our future market, as well as to reconnect with parents already using our products. We know the high chair segment really well and believe this product evolution makes our high chair system truly unique
Vista, CA (Vocus) August 26, 2009
While the award winning minui HandySitt portable high chair has been a staple in Europe for nearly two decades, it wasn't introduced into North America until spring of this year. In response to high chairs that are too big, over-designed and sometimes an eyesore in the family home, it has been a hit with space and eco-conscious parents who can tote it along on outings with junior. Grandparents too have been quick to catch on, as they appreciate that it can be folded up and stowed in a coat closet when the grandkids aren't around. At just 5lbs, it affixes to most dining room chairs, transforming them into a high chair for kids 6 months all the way up to 5 years old.
The new product, called the minui HandySitt Chair, works in tandem with the portable high chair acting as a 'base' for the home. Together, the multi-functional minui HandySitt seating system can be configured and used as a freestanding high chair, a compact and portable high chair for traveling or taking to restaurants, a seat for an older child (less than 5 yrs old) and a step ladder for adults to get to upper cabinets and for kids to help mom with meal prep
"Most high chairs are bulky and kind of ugly. There aren't many out that look as good as the HandySitt, that can be a permanent high chair for the home or a portable one for the road, and that are suitable for kids 6 months old all the way up to 5 years. It's a true 3-in-1 one seating system, so we're excited about its potential," said Adam Neilson, chief dad at Keiki Enterprises
"Because the new Chair is compatible with any minui HandySitt portable high chair ever sold, there's huge promise to expand our future market, as well as to reconnect with parents already using our products. We know the high chair segment really well and believe this product evolution makes our high chair system truly unique," said minui CEO Hardy Mogensen.
About minui
The Danish designer and manufacturer of children's products that make everyday life easier for parents and grandparents with children and grandchildren under 6.
About Keiki Enterprises, Distributor of minui products in North America
A North American distribution company started by two young dads, Keiki distributes and builds brands for children's products that are great looking, practical and built to last.
Contact:
ChicExecs PR
760.992.9113
http://www.chicexecs.com
ChicExecs PR is an "out of the box" PR company which represents over 70 clients. ChicExecs has created an innovative approach to PR dedicated to helping small-medium business receive media coverage. Our revolutionary automated system is changing the face of PR. For more information visit http://www.chicexecs.com.
###