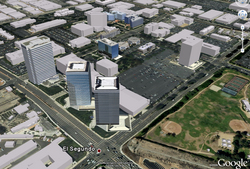 GeoXray's ability to integrate and accurately display dynamic content is a perfect fit for our 3D model generation Application Service Provider (ASP) business since it now allows us to
El Segundo, CA (PRWEB) August 26, 2009
CyberCity 3D Inc. and Geosemble Technologies, Inc. announced a partnership today to integrate CyberCity's 3D building models with Geosemble's GeoXray™ data integration product. This integration transforms flat, static aerial imagery into a dynamic, content-rich, three-dimensional visualization for a range of commercial and government applications.
Geosemble's GeoXray™ product automatically integrates a range of online textual content and accurately displays it on top of features on an aerial image. GeoXray™ allows users to click on a building and see news, blogs and other information related that specific business and neighborhood. The system leverages years of research funding by federal government agencies to automatically and accurately bring dynamic content to aerial imagery CyberCity 3D's technology is focused on high volume generation of realistic 3D building models for real estate, environment, travel, municipal and federal government applications. CyberCity 3D's proprietary software suite allows users to generate realistic 3D building models rapidly and at a comparably low cost.
Speaking on the teaming announcement, CyberCity 3D CEO Kevin DeVito remarked, "GeoXray's ability to integrate and accurately display dynamic content is a perfect fit for our 3D model generation Application Service Provider (ASP) business since it now allows us to "populate" our content", he said. "We can now deliver a much richer experience to users of satellite and aerial imagery who want a three dimensional building view with relevant, dynamic content that's automatically integrated", he said.
Geosemble CEO Andre Doumitt noted "by working with CyberCity 3D we have found a perfect outlet for our data integration and display capability". "This partnership with CyberCity 3D brings us a pipeline to a range of commercial market users who can benefit from our combined capability and gain an advantage in their business application."
About CyberCity 3D, Inc.
CyberCity 3D (http://www.cybercity3d.com) is a state-of-the-art, 3D geospatial modeling company specializing in emerging GeoWeb solutions for residential and commercial real estate, travel destinations, government agencies, the environment and geographic information systems (GIS). The Company is one of the first to offer realistic, three-dimensional, building and city models through the Google Earth™ API plug-in.
About Geosemble Technologies, Inc.
Geosemble Technologies (http://www.geosemble.com) provides automatic techniques for extracting and integrating geospatial information including maps, aerial imagery, news, events, databases, business information and other data. The Company was founded in 2004 as a spin-off of the University of Southern California, and does business with a range of U.S. federal government agencies as well as municipalities.
For further information please contact:
CyberCity 3D, Inc.
300 Continental Blvd., Suite 450
El Segundo CA 90245
http://www.rdevitoatcybercity3d.com
# # #