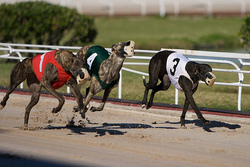 StemVet has been launched following several years of development and the results are speaking for themselves. We welcome all owners, trainers and breeders to join us and be apart of this exciting Australian breakthrough
Sydney, NSW (PRWEB) August 28, 2009
The latest greyhound scientific breakthrough technology has arrived…Stemvet Science. This revolutionary product is now available to trainers following the launch by Australian company, Medivet.
Along with associated products created for the general health and wellbeing of greyhounds, this new stem cell treatment is the brainchild of the Medivet company.
More importantly Stemvet is already being trialled by Australia's leading breeder Paul Wheeler who stated, "This is amazing technology, I'm very interested to see the ongoing results".
"I'm currently doing trials with Medivet in the stem cell treatment of greyhounds. I'm pleased with the early results".
The Managing Director of Medivet Pty Ltd, Shaneel Khan is delighted to have Paul Wheeler working with them in trialling this breakthrough stem cell treatment.
The Wheeler dynasty is managed by Paul Wheeler and if future results positive, this stem cell treatment could be an integral part of the national Wheeler racing team.
"StemVet has been launched following several years of development and the results are speaking for themselves. We welcome all owners, trainers and breeders to join us and be apart of this exciting Australian breakthrough", Khan expressed.
There has already been success with the stem cell treatment at the top level in thoroughbred racing in NSW.
"The stem cell activation product, which is drug free, is expected to have a huge impact in the training of greyhounds internationally".
Maximizing the health and wellness of the performing greyhound, enhances and optimizes muscle, tissue and tendon structure. StemVet science - Activation enables animals to perform at their optimum levels.
StemVet-Activation works at the cellular level by bathing the cells in the best possible protein, the cells respond with resilience, health and longevity. The generated robust health exhibits strength, stamina, and better resistance to parasites and disease. When the dormant stem cells are activated by StemVet ( up to 15% of stem cells are dormant) the entire greyhound is healthier enabling it to perform at its very best.
Another product that will be utilized in the greyhound industry is the Bio-Bute Patch. This product enables pain free racing and can be used up to race day because it does not swab.
The treatment is a two-step process; first you apply the liquid Bio-Bute to the affected area and rub in gently and then apply the Bio-Bute patch, followed by a light strapping.
This product is designed to produce maximum pain relief and assists with the full return to mobility of strained, injured or inflamed joints.
The most important part of all the stem cell treatment and Bio-Bute products is that it's affordable for every trainer at all levels. The Bio-Bute patches come in boxes of 10 for just $30.
For more information on this revolutionary stem cell breakthrough in Australia and to purchase any of Medivet's products, see the back page of this edition and phone 1800 356 505 or visit the Medivet.net.au web site.
###