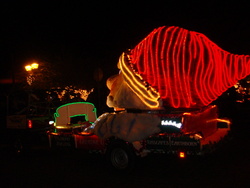 The festival drew more than 6,000 visitors last year and we believe everyone of them had a wonderful time
Carefree, Arizona (PRWEB) August 28, 2009
Real snow in the desert, giant cacti glowing and twinkling in the night and an electric light parade that weaves its way around one of the world's largest sundials are just part of the fun at the weekend-long Annual Carefree Christmas Festival.
This annual event, which is expected to draw thousands, will be held in the picturesque Sonoran Desert community of Carefree, Arizona, on Friday, December 11th through Sunday, December 13th.
A full slate of holiday activities, striking desert mountain scenery, plus sunny day-time weather that typically tops 70 degrees make the Carefree Christmas Festival a must-see event for visitors from around the country as well as the nearby Phoenix metro area.
"The festival drew more than 6,000 visitors last year and we believe everyone of them had a wonderful time" said event organizer Joanne Gemmill. "This is quite a feat for a small town with a population of only 3,500."
The crown jewel of the festivities is the colorful, entertaining electric light parade. The parade will be held on Saturday night at 6.00pm and will wind its way through the center of the Carefree community, around the giant sundial and the town's Amphitheatre. The many floats and bands will pass under the arms of giant saguaros and spindly ocotillo cacti resplendent with lights and decorations.
Santa's official desert home, "The Grotto" will be adjacent to the Amphitheatre. To make the Sonoran desert a little more like the North Pole and to make Santa feel at home, real snow will be brought in from the North Pole! Kids of all ages are invited to throw snowballs and play in the snow. For many of the children who have grown up in the desert, snow will be a first-time experience.
Nighttime holiday festivities will include swing and big band holiday music concerts, folk musicians singing Christmas favorites and traditional chorale groups playing Yule time classics. All of the many musical shows will be staged near the Carefree Amphitheatre.
Another popular event is the annual live theatre production of "Coyote Dreams" an entertaining comedy produced by Dark Night Productions, about a Minnesota couple who travel to Arizona for the holidays. The play has become a seasonal tradition for Arizona residents whose state is inundated by winter visitors, often referred to as snowbirds.
Most of the Carefree Christmas Festival events are free for the public. "We want to welcome as many people as possible," said Gemmill. "It is our intention to bring holiday cheer to all families this year. The town, the volunteers, contributing business and non-profit organizations who donate their time, money and energy have worked to create a happy and cheerful holiday experience for everyone who visits."
The town of Carefree is located just north of the Phoenix metro area. Visitors can take advantage of the areas many notable restaurants and nightspots as well as an abundance of accommodations, including several world-class resorts.
For more information visit Carefree Christmas Festival
The Carefree Christmas Festival, established in 2008, takes place along Easy Street in downtown Carefree, Arizona, a suburb of the greater Phoenix metro area and just north of Scottsdale, Arizona. Event organizer Joanne Gemmill is a local resident and owner of the English Rose Tea Room. For more information visit Carefree Christmas Festival
For editors (not for publication): To contact Jo Gemmill directly, please call 480-488-4812 or write carefreetea (at) aol (dot) com.
For calendar listings and event shorts/briefs:
Event Name: Carefree Christmas Festival
Where: Easy Street, Downtown Carefree, Arizona
When: Friday, December 11th - Sunday, December 13th, 2009
Highlight: Electric Light Parade - Saturday, December 12th, 6:00pm
Presented by: The Town of Carefree and the Carefree/Cave Creek Chamber of Commerce
Emcee: Bill Bellis, Channel 15 ABC weatherman
Why: To bring holiday cheer
How: A volunteer effort of the Town of Carefree, residents, businesses and local non-profits organizations
For information: Carefree Christmas Festival
Where to stay while in the Carefree, Arizona area:
Carefree Resort & Villas, Carefree - Carefree Resort & Villas
The Spirit in the Desert, Carefree - Spirit in the Desert Retreat Center
The Boulders Resort, Scottsdale - The Boulders Resort
The Four Seasons, Scottsdale - The Four Seasons in Scottsdale
# # #