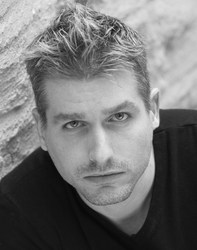 a nicely structured drama...a note of real anguish
Montclair, NJ (PRWEB) August 28, 2009
Take an emotional rollercoaster ride through despair and deep dark secrets with the Director's Cut of "Crutch" on November 3, 2009 from Left of Center Entertainment and Victory Multimedia. "Crutch" is the riveting true story of Rob Moretti, who also directed, wrote, produced, and starred in the film, on his experiences growing up the child of an alcoholic while being sexually abused by his teacher as an impressionable teenager. This special Director's Cut is packed with Bonus Features including a very candid audio commentary by Moretti, as well as an in-depth interview, deleted scenes and a behind-the-scenes featurette. The film also stars Eben Gordon, Frankie Faison (Adam, The Vampire's Assistant), Jennifer Laine Williams and Jennifer J. Katz. The Director's Cut of "Crutch" will be available on DVD nationwide for a SRP of $24.98.
Top critics have declared "Crutch" as "a nicely structured drama...a note of real anguish," The New York Times, and that the film "Succeeds in creating an intimacy with the audience…the story is so personal that you can't help but feel like a voyeur," Filmcritic.com. HX Magazine hailed the film as "Well-written, cleverly crafted and finely acted, this smart drama is full of characters you just want to reach through the screen to shake, slap or save. Moretti doesn't waste a single moment in sharing his very personal story."
The film was released theatrically at the Quad Cinema in New York City, landing at #4 for the highest grossing films per screen its opening weekend in September of 2004. "Crutch" aired on Q Television Network, and sailed into the Top 50 Rentals in the US for three consecutive weeks during its initial DVD release in 2005.
Rob Moretti began his career in front of the camera at the young age 15, appearing in over a dozen films, both independent and mainstream. In 1994, he stepped behind the camera as a Producer and Assistant Director on a number of short films and features, until finally making his directorial debut with "Crutch", a driving passion that was twelve years in the making.
# # #