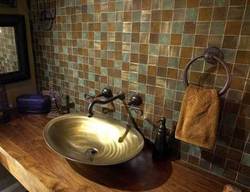 I'm constantly talking to interesting and knowledgeable people in the bathroom design community, so I wanted to create an area on iBaths that showcases their detailed responses to a range of different questions
Chicago, IL (PRWEB) August 28, 2009
To provide readers with the latest tips, trends and ideas from bathroom design experts, iBaths.com has launched a series of interviews entitled "Five Questions With…" Each interview features a prominent member of the design community, including:
New York based bathroom designer and blogger Susan Serra.
California interior designer Troy Adams.
Tile aficionado and author Jen Renzi.
"I'm constantly talking to interesting and knowledgeable people in the bathroom design community, so I wanted to create an area on iBaths that showcases their detailed responses to a range of different questions," said Mark Rumble, senior editor for iBaths.com.
"Five Questions With…" is a running feature in iBaths.com's Bathonista Blog. Presented in question-and-answer format, the interviews have covered topics from restoring bungalow style bathrooms, to the latest advancements in bathroom ventilation.
In addition to the "Five Questions With…" interviews, iBaths.com features videos with bathroom professionals discussing and demonstrating new product innovations. There is also the "Ask the Editor" section, where iBaths.com readers can get bathroom-related questions answered from the site's editorial team, as well as award-winning designers such as Lori Carroll and Beverley Leigh Binns.
iBaths.com will be expanding its "Five Questions With…" interview library throughout the rest of 2009 with several new interviews each month.
About iBaths.com:
iBaths.com is a comprehensive resource for homeowners seeking information and inspiration for beautiful baths. This independent online publication features photography, bathroom design trends and ideas, and new product updates--all in a user-friendly format that puts knowledge at consumers' fingertips.
Founded in 2009, iBaths.com is based in Chicago.
###