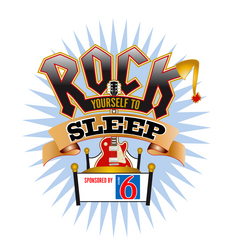 New York, NY (PRWEB) August 27, 2009
Primary Wave Music, one of the largest music publishing companies in the United States, announced today its partnership with Motel 6 on a new campaign designed to support touring bands. The first of its kind, the "Rock Yourself To Sleep" campaign will offer six weeks of free lodging to bands on tour, helping to offset the daunting costs of life on the road. The program will kick-off in early September.
The first bands to participate in the program are Stephen Kellogg & The Sixers, Hit The Lights and Sparks The Rescue.
Stephen Kellogg & The Sixers are on tour now in of support their new CD "The Bear," available Sept. 8th. Hit The Lights are currently on the "Warped Tour," and Sparks The Rescue, fresh off the European leg of the All-American Rejects tour, is out supporting their new album "Eyes To The Sun." The two bands will be touring together this fall.
"Being on the road is an integral part of a band's success," noted Devin Lasker, Partner/Chief Imagination Officer for Primary Wave. "Unfortunately, touring is an expensive proposition, so we created this program to alleviate that burden. We found a partner in Motel 6 who believed in the cause and were as excited as we were to bring this campaign to life."
"Motel 6 is happy to join the campaign and offer weary rock bands a great place to rest and recharge while they're on tour," said Olivier Poirot, CEO of Accor North America, Motel 6 and Studio 6. "We enjoy being able to support the dedicated and creative efforts of young musicians and look forward to seeing them at Motel 6."
Of this new program Alex Roy, lead singer for Sparks The Rescue said, "We are really grateful to Primary Wave and Motel 6 for choosing us to be a part of the "Rock Yourself To Sleep" promotion. The band can't wait to end every night at a Motel 6 this fall when we tour with Hit The Lights. Sparks The Rescue is going to rock hard and sleep well!"
About Primary Wave
Primary Wave is one of the largest music publishers and music marketers in the United States. It is a global music company that markets its unique repertoire, which includes an interest in the Beatles songs written by John Lennon, the catalogs of Kurt Cobain/Nirvana, Steven Tyler/Aerosmith, Daryl Hall & John Oates, Robert Lamm, Jimmy Pankow, and Lee Loughnane of the band Chicago, Maurice White (Earth, Wind & Fire), Steve Earle, Lamont Dozier, Daniel Johnston, Holly Knight, Sara and Janna Allen, Justin Furstenfeld/Blue October, Six Degrees, Marvin Hamlisch, The Matrix music production team, Tennessee Ernie Ford, and approximately 3,000 titles from a major film music publishing catalog as well as a 50% interest in the original music company Think Music, a joint venture with Pulse Music. In addition, Primary Wave has co-publishing deals with The Airborne Toxic Event, Anberlin, Saving Abel, Shwayze, Albert Hammond jr, New Boyz, John Forte, The Boxer Rebellion, Matt Serletic and Emblem Music Group, Saxon Shore, Steve Morales, Taddy Porter, and The HitterZz as well as marketing and administration agreements with Graham Parker, Katrina and The Waves, Reveille, Evolution Entertainment/Twisted Pictures, QED, Team Baby Entertainment, Andy Razaf, Reggie Watts, Ray J and Gregg Allman. Primary Wave is based in New York with offices in Los Angeles and Austin, Texas. For more information, visit http://www.primarywavemusic.com
About Motel 6
Motel 6 offers the best price of any national chain at more than 1,000 company-owned and franchised locations throughout the U.S. and Canada. For 23 years, Motel 6 has used the tagline, "We'll leave the light on for you," earning the chain the highest brand recognition in the economy lodging segment. Motel 6 was the first national pet friendly chain, welcoming pets since 1962. Standard amenities include Wi-Fi Internet access, free local phone calls, no long distance access charges, free morning coffee, data ports, and cable channel line-up with premium channels including HBO, ESPN/ESPN2, and CNN. Most locations offer swimming pools and guest laundry facilities. For more information, visit http://www.motel6.com
For more information on the participating bands and their upcoming tour dates visit:
Stephen Kellogg & The Sixers: http://www.stephenkellogg.com
Hit The Lights: http://www.myspace.com/hitthelights
Sparks The Rescue: http://www.myspace.com/sparkstherescue
Media contact:
Devin Lasker, Primary Wave Music
212.661.6990
###