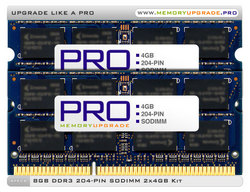 San Jose, Ca (PRWEB) August 28, 2009
Selling truth about computer memory upgrades, keeps systems running properly. PRO Memory Upgrade is helping customers avoid pitfalls of upgrading computer memory with an online store that guarantees all memory modules purchased are an exact quality of those originally installed at the factory, unless they become end-or-life. With the RAM expansion market being rather tricky, PRO Memory Upgrade discloses the truth about the brands it carries and eliminates the guesswork in quality. There are no "house brands", OEM eTT, pulled or refurbished part types of RAM chips sold through their store. Weather you are upgrading your Apple MacBook Pro, Dell PowerEdge or Sun Fire, the consistently of memory upgrades remains the same; buy identical brands and part numbers that Apple, Dell, HP and Sun choose to install.
In addition to supporting computer users with genuine factory made memory modules such as Apple, Dell and HP would install, PRO Memory Upgrade actively seeks to help RAM shoppers save money when purchasing computer memory, by allowing customers to submit offers on similar grades of memory they might find at other online memory stores. PRO Memory Upgrade then stives to match that price. RAM module upgrade capacities range in size from 8GB, 4GB, 2GB, 1GB and 512MB. Larger upgrades so making offers to lower costs can insure customers can be confident they can really purchase the best quality memory modules at the best price, at one place, http://www.MemoryUpgrade.PRO
The PRO Memory Upgrade store holds quotes for .gov & .edu customers for extended periods as they have reserves on server memory modules. PRO Memory Upgrade can very easily hold a quote on a 1000 piece 4GB Fully Buffered or Registered module quote for up to 30 days, which is unique in a volatile memory market.
Delivering unique set of attributes targeted toward small business, government and educational institutions, PRO Memory Upgrade enables procurement of higher quality memory upgrades at greater values. To find our more please contact: http://www.MemoryUpgrade.PRO
# # #