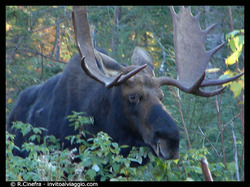 The early part of the season was very rainy and cool - so we're letting folks know there is still plenty of summer and other outdoor fun after Labor Day to take advantage of
Millinocket, Maine (PRWEB) August 27, 2009 -
New England Outdoor Center (NEOC) has announced new package deals to lure adventure seekers to Maine for whitewater rafting, moose viewing, hunting and snowmobiling at their full-service resort in northern Maine. Rafting adventures on the Kennebec, Penobscot and Dead Rivers will be available through the rest of the summer and well into the fall, when the foliage will provide a colorful backdrop to Maine's best whitewater. In addition, guests coming for any type of outdoor adventure can stay at the new Coveside Guesthouses built to LEED® (U.S. Green Building Council's Leadership in Energy and Environmental Design) standards.
"The early part of the season was very rainy and cool - so we're letting folks know there is still plenty of summer and other outdoor fun after Labor Day to take advantage of," noted Scott Lee, general manager at NEOC.
The resort, which offers dining and accommodations for individuals, couples, families and groups, is promoting budget-friendly packages that will suit outdoor enthusiasts' vacation needs.
The stay and play package is $99 per person and features NEOC's signature whitewater rafting, family float trip or three- hour moose/wildlife tour with two nights' accommodation in a cabin tent, and one breakfast and one lunch.
If guests are interested in taking advantage of the new, LEED-certified Coveside Guesthouses, there is a package ($249 per person, based on 4-person occupancy) for two nights that includes whitewater rafting, a family float trip or moose/wildlife viewing tour.
These packages are available through the early fall season. Additional meal and lodging packages are available for hunters and snowmobilers as those seasons begin in the coming months.
NEOC offers rafting trips on the Penobscot, Kennebec and Dead Rivers with Class I-Class V rapids, wildlife viewing tours with a moose-sighting guarantee and other adventures near Baxter State Park and Mt. Katahdin.
The resort is run with an emphasis on sustainability and education, with tour guides relaying information about the environment and history of the region and locally grown foods served in the resort's restaurants.
More information about the specials, LEED guesthouses and various adventure activities, along with a reservations and booking service is available online at:http://www.neoc.com.
About NEOC:
New England Outdoor Center is a four-season resort located near Baxter State Park in northern Maine, with a full range of activities and lodging options for individuals, families and organizations. Founders Matt and Wendy Polstein created the resort in 1982 and as Katahdin Region residents and business owners, their dedication to local, natural resources, heritage and sustainability is reflected throughout the resort. Spanning three locations in western and northern Maine, NEOC boasts views of Mt. Katahdin and tailors experiences to suit adventure seekers, vacationing families, as well as wedding parties, businesses and organizations seeking the ideal spot for a reception, retreat or meeting. On the Web at: http://www.neoc.com.
###