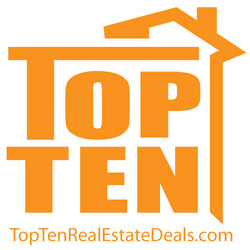 I am thrilled to be selected as the exclusive broker for Big D by TopTenRealEstateDeals.com
Dallas, TX (Vocus) August 28, 2009
TopTenRealEstateDeals.com is a new independent website offering exciting and unique Top 10 lists of today's best deals on real estate for sale. Their current featured new market addition is Dallas, Texas.
The Top 10 list features ten of the best deals on Dallas real estate specifically focusing on eye catching luxury homes and condos.
"I am thrilled to be selected as the exclusive broker for Big D by TopTenRealEstateDeals.com," Brad Holden owner of Holden New Homes exclaims. "The brash and stylish city of Dallas, Texas is known for its image of prosperity including flashy cars, beautiful people, and stunning homes. Incredible investment opportunities from downtown to the surrounding suburbs are abundant right now, we have it all! Don't miss out, be sure to check my Dallas Top Ten list regularly."
In addition to working with TopTenRealEstateDeals.com, Brad is Broker and Owner of Holden New Homes. Holden New Homes has been involved in over 34 million in gross sales to date. His brokerage has been listed as one of the top 50 brokerages in the Dallas Fort Worth Metroplex for sales volume.
To view the Dallas Top Ten Real Estate List visit: http://www.toptenrealestatedeals.com/luxury_real_estate/condos/regional/dallas/
This list is a welcome addition to TopTenRealEstateDeals.com's already extensive list of regional markets. To view a full list of their regional real estate markets visit TopTenRealEstateDeals.com
In addition to the best home and condo bargains, the Top Ten research team looks for fun eye catching deals to be included in entertaining specialty lists. Currently their Top Ten Beach Home list is being showcased by CNBC.com and AOL's blog Shelterpop.com.
For further information, to request an interview with a company representative, or if you would like to become a Top Ten Concierge Agent for your market, please contact Jason Wakefield at press (at) toptenrealestatedeals (dot) com
Contact:
Jason Wakefield
Internet Marketing Director
TopTenRealEstateDeals.com
574-204-2295
###