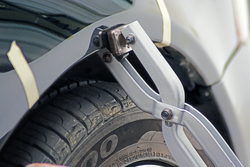 The old-fashioned mallet method is brutal on the car and on the hobbyist
Pottstown, PA (PRWEB) August 27, 2009
The Eastwood Company, the do-it-yourself innovators of automotive restoration tools, paints and chemicals, today announced the launch of the only hand-held pro-grade Fender Finisher tool on the market. The Fender Finisher is designed to quickly and accurately roll the sheet-metal edge of a fender, and eliminate tire rub damage.
"This easy-to-use, hand-held, fender-forming tool rolls the metal fender lip to prevent cutting expensive oversized tires by increasing tire-to-fender clearance. The professional or do-it-yourselfer can now do the job and achieve a crisp, clean edge on the wheel openings, without removing the tire and wheel, thereby producing a custom look. This process will take less than 30 minutes," said Joe Richardson, Eastwood's Head of Research and Development.
The Eastwood Fender Finisher folds the inner lip of the wheel-well arch entirely flat, allowing increased clearance without altering the original shape of the vehicle fender. "The old-fashioned mallet method is brutal on the car and on the hobbyist," Richardson explained, "but the Fender Finisher is tough enough to re-form the metal without damaging or cracking the painted surface or marring the original finish."
For optimal results in using the new Fender Finisher it is best to use a heat gun, to gently soften the paint on the outside of the fender and ease the forming without damaging the paint.
"Using the Eastwood hand-held Fender Finisher, it is now possible to quickly achieve the flattest, smoothest lip, when you're looking to alter the factory edge on the wheel openings without removing the wheel," Richardson stated.
Eastwood markets unique tools and supplies for repair, restoration, and modification of cars, trucks, and motorcycles. Founded in 1978, Eastwood constantly strives to develop new products to serve the home automotive hobbyist, individuals and organizations focused on restoration and revival of automobiles and motorcycles.
For an immediate interview with Joe Richardson, Eastwood Restoration Expert who drew up the prints and refined the design for the Eastwood Fender Finisher, please contact Connie LaMotta, conniela(at)mac(dot)com, 845 596 6091. Reporters, bloggers, writers, editors are always welcomed to use any article in Eastwood's Free Tech Library, with attribution.
###