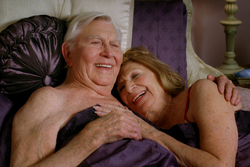 I'm a big fan of seniors living every day to the fullest in their later years, so I'm pleased to hear about these survey results. I'm happy seniors are still exploring each other's bodies in every way
Santa Monica, CA (PRWEB) August 27, 2009
Those doubting the sexual prowess of the typical senior citizen might want to look twice at a recent survey conducted on the Boomer social networking site, eons.com. Among those in relationships, the survey found that 55% of seniors over 70 have oral sex at least once in a while. Inspired by the tasteful yet provocative depiction of senior sex in the soon to be released movie Play The Game, where Andy Griffith's 84-year old character receives oral pleasure from none other than "Mrs. Seinfeld" actress Liz Sheridan, the survey shows that the movie is right: Seniors are having sex and they are enjoying it.
More than 3,500 people age 50+ responded to the survey. A surprising 35% of surveyed seniors age 70+ reported they have oral sex "often" or "very often." Even more shockingly, the survey found that 71% of the over-50 crowd still masturbate, either by themselves or with a partner.
"I'm a big fan of seniors living every day to the fullest in their later years, so I'm pleased to hear about these survey results. I'm happy seniors are still exploring each other's bodies in every way," said Liz Sheridan, who plays Andy Griffith's girlfriend in Play The Game and who played 'Mrs. Seinfeld' in the Seinfeld television series.
Marc Fienberg, the first-time writer/director of Play The Game, commented, "I'm happy that what my grandfather experienced in his love life, and what the characters in Play The Game experience in their sex lives, are finally being revealed to be much more common than any of us ever expected. The secret is finally out: Seniors still do it. And they enjoy it!" Marc's grandfather, who started dating again when he was 89 years-old, served as the inspiration for Play The Game, which is set for a theatrical release across the country on August 28th.
Sex aside, the themes in the movie Play The Game echo other compelling findings about romance and dating among Boomers and seniors. Showing that hope springs eternal, 77% of the singles 50+ are out there actively dating or trying to date. But the biggest impediment to their success? Finding other single friends with whom to socialize. Contrary to common expectations about the dating scene, more men than women said money was the most important characteristic in a partner, and more women than men said looks and willingness to have sex were very important.
"Dating has changed quite a bit over the years. What used to be a face to face encounter has evolved into a series of online interactions before a meeting takes place," says Jeff Taylor, Eons CEO and founder. "Meeting online gives older daters a way to make a connection with each other before making the big jump to a date." What they do after that, as they say, is behind closed doors…and available in the survey results (http://www.eons.com/groups/topic/1812394).
About Story Films, Inc.
Story Films presents Play The Game, written and directed by Marc Fienberg, starring Andy Griffith (The Andy Griffith Show, Matlock), Paul Campbell (Battlestar Galactica), Marla Sokoloff (The Practice), Liz Sheridan (Seinfeld, ALF) and Doris Roberts (Everybody Loves Raymond, Aliens in the Attic). Learn more about the movie online at http://www.playthegamemovie.com. Play The Game is rated PG-13 for sexual content and language.
About Eons™
Eons.com is the online community for spirited BOOMers who want to explore their passions, keep in touch with friends, connect with interesting people to share life experiences and most of all have fun. Founded by Jeff Taylor, creator of Monster.com, Eons, Inc. has attracted a team of renowned advisors and industry-leading partners. Eons is headquartered in Charlestown Navy Yard, Boston. For more information about Eons, visit eons.com.
###