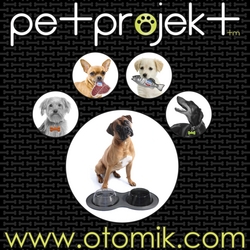 If our pet products aren't good enough for our own pets, there is no way they're good for yours!
Vista, CA (Vocus) August 27, 2009
PetProjekt is a fresh face filling the gaps in the pet product industry. The focus of their online boutique is on providing modern and trendy designs that appeal to both owner and pet.
Jason Vap, the owner of PetProjekt, has over 15 years of experience developing and marketing consumer products through his company Otomik Products Inc. With PetProjekt he has striven to go above and beyond other pet suppliers by creating, designing, developing, and manufacturing his own product line. It may seem like a lot of work, but the finished products are well worth the time put into them.
It was started as a labor of love after rescuing a Doberman puppy named Kava, now his faithful product tester. After bringing him home Jason did some research on the pet industry and was surprised by how little creativity and quality there was out on the market. After thinking, "if only there were something safe, affordable, and stylish!" he smacked himself in the head and put his entrepreneurial skills to work.
The company has developed quite a bit since its conception, and includes toys, dog bowls, and leashes that incorporate a sense of humor and taste. Take for instance the Dogmeat Mackeral squeaky toy. You might have to do a double-take when you see your dog chewing on a full sized fish, but your pet will love its shape and you'll love its durability.
Their innovative products are easy to use and have great results without all the distractions of glitzy wrapping. The Fresh Fido Fragrance Charms will keep your dog smelling good and have others clamoring to know your secret. All you have to do is clip the discreet charm onto the collar and enjoy scents from Cucumber melon to White Linen.
The Petprojekt line of merchandise is only made from quality 100% non-toxic materials that are dog tested and approved. That means they are 100% lead free, 100% cadmium free, and 100% non phthalate PVC (meaning that the toxic chemical call phthalates are not there). Safety comes first, and they stand by their products. It's not just their quality that will have your dog barking for more, but their price will get you howling. Providing for your pooch was never so affordable. Their motto is "If our pet products aren't good enough for our own pets, there is no way they're good for yours!"
Contact:
ChicExecs PR
760.992.9113
http://www.chicexecs.com
ChicExecs PR is an "out of the box" PR company which represents over 70 clients. ChicExecs has created an innovative approach to PR dedicated to helping small-medium business receive media coverage. Our revolutionary automated system is changing the face of PR. For more information visit http://www.chicexecs.com.
###