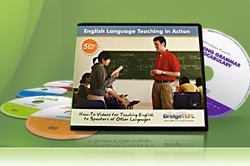 I think training centers will especially find this a nice addition to their resource library for trainee observation or tasks
Denver, CO (PRWEB) August 31, 2009
A new DVD series entitled English Language Teaching in Action was published by BridgeTEFL, a Denver based provider of teacher certification courses. The "how-to" style videos were designed as a professional development resource for TESOL (Teaching English to Speakers of Other Languages) teachers.
"These videos fill a gap in the current materials that are available to TESOL teachers," explains Sarah Athanas, one of the producers of the DVDs, "While most TESOL-oriented videos lack a clear focus, these videos are professionally shot, edited, and reinforced with helpful graphics. Each video focuses on a specific topic, such as tips for remembering students' names or how to use timelines to teach verb tenses."
"English Language Teaching in Action is a high quality, versatile product that can be used both in classroom training contexts and for self-access purposes. It is a long awaited resource that has the right combination of quality, extensiveness, and price," confirms David Catterick, Assistant Professor of Global Studies at Briercrest College in Canada.
Each of the 70 videos in the 5-disc set follows the same format. It begins by identifying a typical problem or dilemma in the TESOL classroom. Then, a professional teacher explains a strategy for how to solve the problem in a concise, step-by-step narration while on-screen graphics help clarify and summarize the information. Next, the teacher demonstrates what was just explained with real English language learners in a classroom setting. Finally, the teacher expands on the technique/activity shown, giving ideas for variations or adapting it to different student levels. A sample of the video format can be viewed online.
BridgeTEFL expects the audience for the new DVDs to be diverse, including individual TESOL teachers, language schools, universities, and teacher training centers. "I think training centers will especially find this a nice addition to their resource library for trainee observation or tasks," says Athanas.
Lisa Rooney, director of BridgeTEFL, adds, "While ELT in Action is perfect for new TEFL (Teach English as a Foreign Language) teachers teaching abroad, it is also a great resource for experienced ESL teachers who are looking for fresh ideas to keep their classes interesting."
The DVDs are available for purchase online at TEFLVideos.com.
About BridgeTEFL:
A division of Bridge-Linguatec, Inc., BridgeTEFL is the largest provider of TEFL courses in the United States, training over 3,000 teachers annually.
About Bridge-Linguatec:
Founded in 1983, Bridge-Linguatec is a world leader in language, education and travel. An international company with headquarters in Denver, Colorado, Bridge-Linguatec offers a wide spectrum of language related products and services, including language training and immersion programs, teacher training and development courses, language testing, translation and interpretation services, and cross-cultural travel programs including international service learning, language study and teaching English abroad.
###