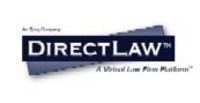 put their practice on the Web
Palm Beach Gardens, Fla. (PRWEB) August 26, 2009
Combining digital legal applications with traditional human service is a way to increase law firm profit margins, without increasing the amount of time that an attorney spends on each transaction. DirectLaw, Inc. founder Richard Granat has been selected among the first seven "Legal Rebels" identified by the ABA Journal for his development of a "virtual law firm in a box" called the DirectLaw Virtual Law Firm Platform. http://www.directlaw.com
"It's an honor to be among the first Legal Rebels selected by the ABA Journal," said Richard Granat. "The future belongs to law firms that learn how to use Internet technology to separate themselves from their competition by offering a client experience that is both affordable and of high quality." Legal Rebels
A software as a service (SaaS) turnkey solution, the DirectLaw Virtual Law Firm Platform is a "virtual law firm in a box" for attorneys who want to "put their practice on the Web" without having to install software or maintain hardware. DirectLaw provides a next generation web presence for solos and small law firms. It comes complete with a secure, online administrative dashboard to manage the client relationship and includes integrated e-commerce features for online credit card purchases. This dashboard enables on-demand retrieval and review of client documents, includes upload/download features to share drafts and deliver final documents, and provides a secure MyLegalAffairs web space where clients can purchase legal documents bundled with legal advice for a fixed fee, purchase legal advice by telephone and by email, and other legal services. The MyLegalAffairs web space also includes collaborative features such as secure, online communications; file sharing capabilities; basic calendar functions; and electronic invoicing.
About DirectLaw, Inc.
DirectLaw, Inc. based in Owings Mills, Maryland and Palm Beach Gardens, Florida, is a subsidiary of Epoq US, Inc., a leading provider of automated legal forms and documents over the Internet to consumers and small businesses in the United States. Epoq operates a large network of automated legal form web sites, such as SmartLegalForms.com, which are powered by Rapidocs®, its proprietary web-enabled and interactive document automation technology.
For more information visit DirectLaw.com. DirectLaw.
About Richard Granat
Richard Granat is president and founder of DirectLaw, Inc., and Epoq US, Inc. He is also managing partner of MarylandFamilyLawyer.com, a virtual law firm and prototype for the DirectLaw Virtual Law Firm Platform. Mr. Granat is also chair of the eLawyering Task Force of the Law Practice Management Section, and a member of the section's council; he serves on the ABA Standing Committee on the Delivery of Legal Services, and is a fellow in the College of Law Practice Management. He is a member of the Maryland and District of Columbia Bar.
Mr. Granat has been involved in developing innovative legal services delivery systems for over 30 years -- first as President and Dean of the Philadelphia Institute for Paralegal Training, the nation's first paralegal school -- and then as the founder of Automated Legal Systems, Inc., one of the first legal software companies to publish legal applications for the personal computer.
About the ABA Journal and American Bar Association
The ABA Journal covers the trends, people and finances of the legal profession. The flagship publication of the American Bar Association is sent to every ABA member and reaches more than half of the 1.1 million lawyers in this country each month. With more than 400,000 members, the American Bar Association is the largest voluntary professional membership organization in the world.
###